Now
Fran Fraschilla
@franfraschilla

Turned Sparty into national power with typical Tom Izzo toughness & humility. twitter.com/msu_basketball…
Jeff Goodman
@GoodmanESPN
Roy Williams optimistic he won't have to attend NCAA hearing on UNC probe, says no intention to retire anytime soon: es.pn/2cXJrTz
Myron Medcalf
ESPN Staff Writer

Second time at Kentucky in recent weeks. Talked to coaches and players. I've watched the guys play. The 2014-15 UK squad was unique. Not sure we'll see that level of talent in the near future. But the 2016-17 team shares that same confidence and fearlessness. And it's a powerful assembly.
Myron Medcalf
ESPN Staff Writer

Bam Adebayo, the 6-10, 255-pound freshman star at Kentucky, told ESPN.com today that he likes a lot of music. But his favorite artist might surprise you. "Katy Perry." Favorite song? "Last Friday Night." Says her music makes him feel good.
Myron Medcalf
ESPN Staff Writer

What should fans expect to see once Kentucky five-star big man Bam Adebayo steps onto the court for the first time?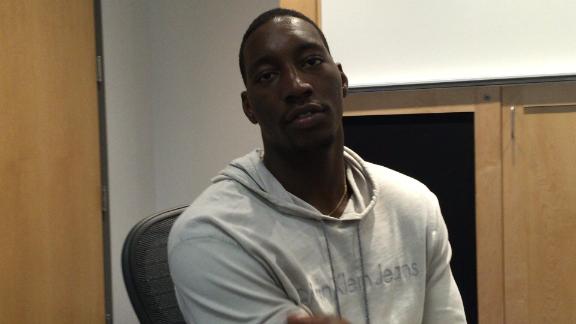 Jeff Borzello
ESPN Staff Writer

Other key visitors this weekend: Lindell Wigginton and Isaiah Stokes (Iowa State), Rayshaun Hammonds (Memphis), Kimani Lawrence (Arizona State), Ira Lee (California), Xavier Tillman (Marquette), Nojel Eastern (Michigan State), Deng Gak (Miami), Wabissa Bede (Virginia Tech), Darryl Morsell (Villanova), Evan Battey (Purdue).
ESPN RN Hoops
@ESPNRNHoops

Buzz Williams and Virginia Tech landed three commitments from the Class of 2019 on Thursday: espn.com/colleges/baske…
Jeff Goodman
ESPN Insider

Roy Williams nearly back from third knee surgery in last year or so. Had total knee replacement on right knee and said he has played golf eight times. "As long as I'm healthy, I'm going to keep coaching. ... Coach (Dean) Smith told me years ago he retired too early and I'm not going to do that."
Myron Medcalf
ESPN Staff Writer

Why Kentucky? Here's the photo spread of every former UK player in the NBA right now, which is in the school's basketball office. Doesn't include the players drafted this summer. This helps.
Myron Medcalf
ESPN Staff Writer

Five-star freshman Malik Monk is laid back off the court, but he surprises people with his fire on the court. "I'm a dog." He says the UK roster is full of "dogs" this season who are "willing to do anything to win." The talent here is immense. But the confidence and attitude on this roster are critical, too.
Myron Medcalf
ESPN Staff Writer

How would Kentucky freshman Malik Monk describe his game? "I'm a scorer." The rest? He said he'd rather show you once the season starts.
Jeff Borzello
ESPN Staff Writer

ESPN 100 forward Justin Smith tells ESPN he is down to Indiana and Villanova. Took official visits to both campuses.
Jeff Goodman
ESPN Insider

Duke freshman Marques Bolden's first name isn't pronounced how you think.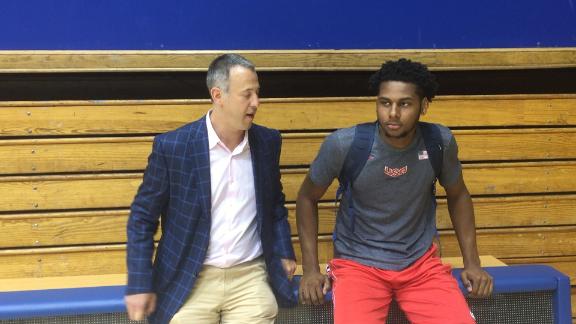 ESPN RN Hoops
@ESPNRNHoops

ICYMI Last Night: @PaulBiancardi with a Scout's Take breakdown of 2018 PF E.J. Montgomery to Auburn espn.com/blog/ncbrecrui…
Paul Biancardi
@PaulBiancardi
Auburn & @coachbrucepearl strike again in recruiting with #ESPN No.23 in 2018 E.J Montgomery. My Scout's Take insider.espn.com/blog/ncbrecrui…