Our summer forecast tips off with a look at what promises to be an entertaining season from NBA rookies. Lonzo Ball brings a wave of excitement to the Los Angeles Lakers, and the Philadelphia 76ers feature the past two No. 1 draft picks -- Markelle Fultz and Ben Simmons -- who are both eligible for Rookie of the Year since Simmons missed all of last season because of a foot injury.
We asked the ESPN Forecast panel to rank its top three choices for the 2017-18 NBA Rookie of the Year, with a first-place vote receiving five points, a second-place vote receiving three and a third-place vote receiving one.
Here are the results:
Rookie of the Year forecast
---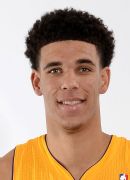 1. Lonzo Ball
Los Angeles Lakers | PG
First-place votes: 21
Total points: 140
Comments: Though his electric play in summer league certainly played a role in shaping our expectations as he averaged 16.3 points, 9.3 assists and 7.7 rebounds, perhaps the biggest reason Ball enters as a Rookie of the Year favorite is simply opportunity. Luke Walton will let Ball play through his mistakes and he will have the ball in his hands a ton.
Last season bucked a recent trend, with Malcolm Brogdon snapping a streak of 15 consecutive seasons in which the Rookie of the Year averaged at least 30 minutes per game and posted a usage percentage of 20.0 or more. With a bevy of ball-dominant rookies, expect that trend to return with Ball a good bet to be in that group. The only rookie in Lakers history to do it? Magic Johnson, the man who just drafted Ball. -- Micah Adams, ESPN Stats & Info
---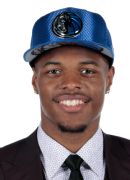 2. Dennis Smith Jr.
Dallas Mavericks | PG
First-place votes: 12
Total points: 86
Comments: If early indications hold up, Smith looks to be the steal of the draft at No. 9 overall. And like Ball, he is joining a lottery team that hopes to build around his evident talent.
Unlike Ball, who figures to get minutes no matter what happens, it's fair to wonder if the same holds true for Smith under Rick Carlisle, especially if the Mavericks find themselves in a playoff push late in the Dirk Nowitzki era. In Carlisle's nine seasons in Dallas, the only player to make an All-Rookie team is Yogi Ferrell, who did it last season and could push Smith for playing time. -- Adams
---
3. Ben Simmons
Philadelphia 76ers | SF
First-place votes: 6
Total points: 62
Comments: Simmons might be the hardest player to project, as he didn't play in summer league -- his last competitive action came during summer league in 2016. As a point forward, Simmons figures to steer the ship on offense, though it remains to be seen how those duties are shared with No. 1 overall pick Markelle Fultz.
ESPN.com's fantasy projections have Simmons at 14.7 points, 6.6 assists and 5.9 rebounds, all-around production almost unheard of for a rookie. In fact, the only two rookies in NBA history to reach those thresholds are Magic Johnson and Oscar Robertson. -- Adams
---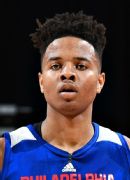 4. Markelle Fultz
Philadelphia 76ers | PG
First-place votes: 4
Total points: 60
Comments: Given that he enters the NBA as a point guard and probably will often share the floor with Simmons, it's unclear exactly what kind of contributions Fultz will provide for Philly. If he's playing primarily off the ball, Fultz could get fewer shots than expected with Simmons handling the ball and efficient scorers Joel Embiid and JJ Redick on the floor. So if everyone stays healthy (always a question mark, especially in Philadelphia), it could be difficult for Fultz to stand out statistically.
His Rookie of the Year chances could also come down to how Brett Brown's rotations shake out, as they would surely be boosted if Fultz gets significant burn while Embiid and/or Simmons sit. -- Adams
---
Also receiving votes: De'Aaron Fox, Kings (18 points); Josh Jackson, Suns (10); Milos Teodosic, Clippers (8); Donovan Mitchell, Jazz (5); Jayson Tatum, Celtics (5); Lauri Markkanen, Bulls (1); Malik Monk, Hornets (1).