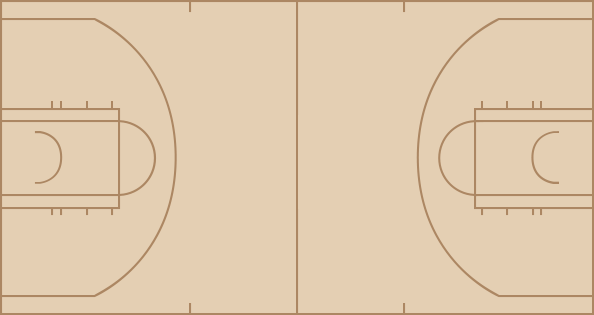 Knicks
time
TEAM
PLAY
SCORE
12:00
Start of the 1st Quarter
0 - 0
12:00
Jumpball: Wilson Chandler vs. Andray Blatche (Al Thornton gains possession)
0 - 0
11:42
Danilo Gallinari personal foul (Al Thornton draws the foul)
0 - 0
11:34
Al Thornton misses 17-foot jumper
0 - 0
11:33
James Singleton offensive rebound
0 - 0
11:25
Andray Blatche makes 25-foot three point jumper (Al Thornton assists)
0 - 3
11:11
Wilson Chandler makes layup (David Lee assists)
2 - 3
10:52
Randy Foye traveling
2 - 3
10:40
David Lee offensive foul (James Singleton draws the foul)
2 - 3
10:40
David Lee turnover
2 - 3
10:26
Al Thornton makes 19-foot jumper (James Singleton assists)
2 - 5
10:07
James Singleton blocks David Lee's 6-foot jumper
2 - 5
10:07
New York offensive rebound
2 - 5
10:06
Wilson Chandler misses 3-foot jumper
2 - 5
10:04
Tracy McGrady offensive rebound
2 - 5
10:00
Wilson Chandler makes layup (Tracy McGrady assists)
4 - 5
9:41
Andray Blatche makes 17-foot two point shot (Mike Miller assists)
4 - 7
9:22
Wilson Chandler misses 24-foot three point jumper
4 - 7
9:21
Al Thornton defensive rebound
4 - 7
9:12
Andray Blatche lost ball (Sergio Rodriguez steals)
4 - 7
9:04
Wilson Chandler bad pass (James Singleton steals)
4 - 7
8:57
Al Thornton makes layup (Randy Foye assists)
4 - 9
8:41
David Lee makes 18-foot jumper (Sergio Rodriguez assists)
6 - 9
8:21
Al Thornton makes 25-foot three point jumper (Mike Miller assists)
6 - 12
8:02
Tracy McGrady makes driving layup
8 - 12
8:02
James Singleton shooting foul (Tracy McGrady draws the foul)
8 - 12
8:02
Tracy McGrady makes free throw 1 of 1
9 - 12
7:47
Randy Foye bad pass (Wilson Chandler steals)
9 - 12
7:37
David Lee misses 13-foot jumper
9 - 12
7:35
James Singleton defensive rebound
9 - 12
7:22
Randy Foye makes 24-foot three point jumper
9 - 15
7:13
Sergio Rodriguez makes driving layup
11 - 15
6:56
Mike Miller misses 17-foot jumper
11 - 15
6:54
Danilo Gallinari defensive rebound
11 - 15
6:45
Tracy McGrady misses 19-foot jumper
11 - 15
6:43
Randy Foye defensive rebound
11 - 15
6:39
James Singleton makes layup (Randy Foye assists)
11 - 17
6:22
James Singleton blocks David Lee's 9-foot jumper
11 - 17
6:22
New York offensive rebound
11 - 17
6:20
James Singleton blocks Wilson Chandler's 9-foot jumper
11 - 17
6:18
New York offensive rebound
11 - 17
6:16
Andray Blatche blocks Wilson Chandler's layup
11 - 17
6:16
New York offensive rebound
11 - 17
6:07
Danilo Gallinari makes driving layup
13 - 17
5:50
Tracy McGrady personal foul (Al Thornton draws the foul)
13 - 17
5:50
Washington full timeout
13 - 17
5:50
Eddie House enters the game for Wilson Chandler
13 - 17
5:50
Al Harrington enters the game for Sergio Rodriguez
13 - 17
5:37
Al Thornton misses 4-foot jumper
13 - 17
5:35
David Lee defensive rebound
13 - 17
5:31
Tracy McGrady makes layup (Eddie House assists)
15 - 17
5:31
Mike Miller shooting foul (Tracy McGrady draws the foul)
15 - 17
5:31
Tracy McGrady makes free throw 1 of 1
16 - 17
5:13
Andray Blatche lost ball (Eddie House steals)
16 - 17
5:03
Eddie House misses 23-foot three point jumper
16 - 17
5:01
Al Thornton defensive rebound
16 - 17
4:48
Al Harrington illegal defense foul (1st personal foul)
16 - 17
4:48
Randy Foye misses technical free throw
16 - 17
4:48
Washington offensive rebound
16 - 17
4:48
Earl Boykins enters the game for Randy Foye
16 - 17
4:39
Andray Blatche misses 16-foot jumper
16 - 17
4:39
Al Thornton offensive rebound
16 - 17
4:26
Earl Boykins makes 25-foot three point jumper (Al Thornton assists)
16 - 20
4:07
David Lee bad pass (Andray Blatche steals)
16 - 20
3:55
Tracy McGrady blocks Andray Blatche's 7-foot jumper
16 - 20
3:51
Eddie House defensive rebound
16 - 20
3:50
David Lee offensive foul (Andray Blatche draws the foul)
16 - 20
3:50
David Lee turnover
16 - 20
3:50
JaVale McGee enters the game for James Singleton
16 - 20
3:50
Bill Walker enters the game for David Lee
16 - 20
3:31
Al Thornton misses 15-foot jumper
16 - 20
3:31
JaVale McGee offensive rebound
16 - 20
3:28
JaVale McGee makes 1-foot two point shot
16 - 22
3:15
JaVale McGee blocks Tracy McGrady's 3-foot jumper
16 - 22
3:15
Danilo Gallinari offensive rebound
16 - 22
3:15
Mike Miller personal foul (Bill Walker draws the foul)
16 - 22
3:15
Nick Young enters the game for Mike Miller
16 - 22
3:08
Tracy McGrady makes 14-foot jumper (Al Harrington assists)
18 - 22
2:58
Al Harrington personal foul (Andray Blatche draws the foul)
18 - 22
2:58
New York full timeout
18 - 22
2:58
Toney Douglas enters the game for Danilo Gallinari
18 - 22
2:47
Toney Douglas personal foul (Andray Blatche draws the foul)
18 - 22
2:44
Eddie House shooting foul (Nick Young draws the foul)
18 - 22
2:44
Nick Young misses free throw 1 of 2
18 - 22
2:44
Washington offensive rebound
18 - 22
2:44
Nick Young makes free throw 2 of 2
18 - 23
2:33
Tracy McGrady misses 4-foot jumper
18 - 23
2:32
Andray Blatche defensive rebound
18 - 23
2:28
Earl Boykins makes 20-foot jumper (Andray Blatche assists)
18 - 25
2:14
Al Harrington misses 5-foot jumper
18 - 25
2:13
Al Harrington offensive rebound
18 - 25
2:12
Nick Young personal foul (Al Harrington draws the foul)
18 - 25
2:03
Al Thornton personal foul (Tracy McGrady draws the foul)
18 - 25
2:03
Tracy McGrady makes free throw 1 of 2
19 - 25
2:03
Tracy McGrady makes free throw 2 of 2
20 - 25
1:47
Andray Blatche makes 2-foot two point shot (Nick Young assists)
20 - 27
1:34
Andray Blatche blocks Bill Walker's jumper
20 - 27
1:31
Bill Walker offensive rebound
20 - 27
1:31
Quinton Ross enters the game for Al Thornton
20 - 27
1:23
Tracy McGrady misses 17-foot jumper
20 - 27
1:22
Andray Blatche defensive rebound
20 - 27
1:09
Andray Blatche offensive foul (Al Harrington draws the foul)
20 - 27
1:09
Andray Blatche turnover
20 - 27
1:09
Wilson Chandler enters the game for Tracy McGrady
20 - 27
0:59
Bill Walker traveling
20 - 27
0:47
JaVale McGee makes layup (Earl Boykins assists)
20 - 29
0:47
Wilson Chandler shooting foul (JaVale McGee draws the foul)
20 - 29
0:47
James Singleton enters the game for Andray Blatche
20 - 29
0:47
JaVale McGee makes free throw 1 of 1
20 - 30
0:40
Nick Young personal foul (Toney Douglas draws the foul)
20 - 30
0:40
Toney Douglas makes free throw 1 of 2
21 - 30
0:40
Toney Douglas makes free throw 2 of 2
22 - 30
0:28
Nick Young misses 23-foot three point jumper
22 - 30
0:27
Al Harrington defensive rebound
22 - 30
0:21
Eddie House misses 26-foot three point jumper
22 - 30
0:21
Bill Walker offensive rebound
22 - 30
0:18
Bill Walker makes slam dunk
24 - 30
0:01
Earl Boykins misses 17-foot jumper
24 - 30
0:00
Eddie House defensive rebound
24 - 30
0:00
End of the 1st Quarter
24 - 30

time
TEAM
PLAY
SCORE
12:00
Start of the 2nd Quarter
24 - 30
11:45
Al Harrington makes 27-foot three point jumper (Eddie House assists)
27 - 30
11:22
James Singleton misses jumper
27 - 30
11:21
Al Harrington defensive rebound
27 - 30
11:04
Al Harrington misses 26-foot three point jumper
27 - 30
11:04
New York defensive rebound
27 - 30
10:55
James Singleton makes layup (Earl Boykins assists)
27 - 32
10:49
Quinton Ross personal foul (Bill Walker draws the foul)
27 - 32
10:49
Andray Blatche enters the game for James Singleton
27 - 32
10:44
Eddie House misses 19-foot jumper
27 - 32
10:42
Andray Blatche defensive rebound
27 - 32
10:30
Nick Young misses layup
27 - 32
10:29
Al Harrington defensive rebound
27 - 32
10:27
Toney Douglas traveling
27 - 32
10:12
Andray Blatche misses 13-foot jumper
27 - 32
10:11
Eddie House defensive rebound
27 - 32
10:00
Al Harrington makes driving dunk (Eddie House assists)
29 - 32
9:37
JaVale McGee lost ball (Bill Walker steals)
29 - 32
9:36
Bill Walker bad pass
29 - 32
9:36
Sergio Rodriguez enters the game for Eddie House
29 - 32
9:36
Danilo Gallinari enters the game for Bill Walker
29 - 32
9:22
Earl Boykins makes 18-foot jumper
29 - 34
9:12
Sergio Rodriguez traveling
29 - 34
9:06
Earl Boykins misses 3-foot jumper
29 - 34
9:04
Toney Douglas defensive rebound
29 - 34
9:00
Quinton Ross shooting foul (Wilson Chandler draws the foul)
29 - 34
9:00
Wilson Chandler makes free throw 1 of 2
30 - 34
9:00
Randy Foye enters the game for Earl Boykins
30 - 34
9:00
Al Thornton enters the game for JaVale McGee
30 - 34
9:00
Mike Miller enters the game for Nick Young
30 - 34
9:00
Wilson Chandler misses free throw 2 of 2
30 - 34
8:53
Mike Miller defensive rebound
30 - 34
8:44
Andray Blatche traveling
30 - 34
8:44
Official timeout
30 - 34
8:33
Al Harrington turnover
30 - 34
8:23
Randy Foye makes jumper
30 - 36
8:11
Wilson Chandler makes driving dunk (Sergio Rodriguez assists)
32 - 36
7:56
Danilo Gallinari blocks Andray Blatche's jumper
32 - 36
7:54
Al Thornton offensive rebound
32 - 36
7:52
Al Thornton makes dunk
32 - 38
7:31
Al Harrington misses 9-foot jumper
32 - 38
7:30
Mike Miller defensive rebound
32 - 38
7:26
Sergio Rodriguez shooting foul (Andray Blatche draws the foul)
32 - 38
7:26
David Lee enters the game for Toney Douglas
32 - 38
7:26
Andray Blatche makes free throw 1 of 2
32 - 39
7:26
Andray Blatche makes free throw 2 of 2
32 - 40
7:05
Al Harrington makes 26-foot three point jumper (Sergio Rodriguez assists)
35 - 40
6:45
Quinton Ross makes 13-foot running jumper (Randy Foye assists)
35 - 42
6:45
Danilo Gallinari shooting foul (Quinton Ross draws the foul)
35 - 42
6:45
Quinton Ross makes free throw 1 of 1
35 - 43
6:28
David Lee makes driving dunk (Wilson Chandler assists)
37 - 43
5:58
Andray Blatche misses 23-foot three point jumper
37 - 43
5:56
Danilo Gallinari defensive rebound
37 - 43
5:54
Sergio Rodriguez misses layup
37 - 43
5:52
Andray Blatche defensive rebound
37 - 43
5:46
Al Thornton makes layup (Randy Foye assists)
37 - 45
5:20
Al Harrington misses 5-foot jumper
37 - 45
5:20
Andray Blatche defensive rebound
37 - 45
5:15
Mike Miller makes 25-foot three point jumper (Randy Foye assists)
37 - 48
5:15
New York full timeout
37 - 48
5:15
Tracy McGrady enters the game for Al Harrington
37 - 48
4:58
Danilo Gallinari makes 5-foot running jumper
39 - 48
4:37
Mike Miller makes 26-foot three point jumper (Al Thornton assists)
39 - 51
4:13
Tracy McGrady makes 19-foot jumper (David Lee assists)
41 - 51
3:51
Mike Miller misses 26-foot three point jumper
41 - 51
3:50
David Lee defensive rebound
41 - 51
3:40
Danilo Gallinari makes jumper (Tracy McGrady assists)
43 - 51
3:31
Washington full timeout
43 - 51
3:20
Andray Blatche makes driving layup (Randy Foye assists)
43 - 53
3:01
Wilson Chandler misses 4-foot jumper
43 - 53
3:00
Mike Miller defensive rebound
43 - 53
2:54
Mike Miller misses 21-foot jumper
43 - 53
2:53
David Lee defensive rebound
43 - 53
2:46
Wilson Chandler makes jumper (Sergio Rodriguez assists)
45 - 53
2:31
Sergio Rodriguez shooting foul (Randy Foye draws the foul)
45 - 53
2:31
Randy Foye makes free throw 1 of 2
45 - 54
2:31
Randy Foye misses free throw 2 of 2
45 - 54
2:29
David Lee defensive rebound
45 - 54
2:11
David Lee misses 5-foot jumper
45 - 54
2:10
Andray Blatche defensive rebound
45 - 54
2:00
Quinton Ross misses 18-foot jumper
45 - 54
1:59
Danilo Gallinari defensive rebound
45 - 54
1:42
Tracy McGrady makes layup
47 - 54
1:20
Randy Foye makes 24-foot three point jumper (Mike Miller assists)
47 - 57
1:07
Quinton Ross personal foul (Tracy McGrady draws the foul)
47 - 57
1:07
Nick Young enters the game for Quinton Ross
47 - 57
1:01
Al Thornton shooting foul (David Lee draws the foul)
47 - 57
1:01
David Lee makes free throw 1 of 2
48 - 57
1:01
David Lee makes free throw 2 of 2
49 - 57
0:52
Randy Foye makes 21-foot jumper
49 - 59
0:31
David Lee offensive foul (Randy Foye draws the foul)
49 - 59
0:31
David Lee turnover
49 - 59
0:31
Shaun Livingston enters the game for Al Thornton
49 - 59
0:31
Mike Harris enters the game for Mike Miller
49 - 59
0:31
Al Harrington enters the game for David Lee
49 - 59
0:06
Nick Young misses jumper
49 - 59
0:05
Sergio Rodriguez defensive rebound
49 - 59
0:01
Al Harrington makes 28-foot three point jumper (Sergio Rodriguez assists)
52 - 59
0:00
End of the 2nd Quarter
52 - 59

time
TEAM
PLAY
SCORE
12:00
Start of the 3rd Quarter
52 - 59
11:48
Tracy McGrady makes layup (David Lee assists)
54 - 59
11:30
Andray Blatche makes 18-foot jumper (Mike Miller assists)
54 - 61
11:07
Sergio Rodriguez makes 25-foot three point jumper (Wilson Chandler assists)
57 - 61
10:52
Andray Blatche turnover
57 - 61
10:40
Tracy McGrady misses 26-foot three point jumper
57 - 61
10:38
JaVale McGee defensive rebound
57 - 61
10:29
Andray Blatche 3 second
57 - 61
10:14
Tracy McGrady makes 16-foot two point shot
59 - 61
10:14
Al Thornton shooting foul (Tracy McGrady draws the foul)
59 - 61
10:14
Tracy McGrady makes free throw 1 of 1
60 - 61
9:53
Danilo Gallinari blocks Al Thornton's 5-foot jumper
60 - 61
9:52
David Lee defensive rebound
60 - 61
9:44
JaVale McGee blocks Wilson Chandler's jumper
60 - 61
9:42
New York offensive rebound
60 - 61
9:41
David Lee makes 17-foot jumper (Tracy McGrady assists)
62 - 61
9:40
Washington full timeout
62 - 61
9:30
Mike Miller makes driving layup
62 - 63
9:11
Al Thornton blocks Tracy McGrady's 18-foot jumper
62 - 63
9:10
Mike Miller defensive rebound
62 - 63
9:04
Mike Miller misses 18-foot jumper
62 - 63
9:02
Tracy McGrady defensive rebound
62 - 63
8:57
Mike Miller blocks Wilson Chandler's layup
62 - 63
8:55
JaVale McGee defensive rebound
62 - 63
8:51
Al Thornton misses jumper
62 - 63
8:48
David Lee defensive rebound
62 - 63
8:33
Tracy McGrady makes driving layup
64 - 63
8:11
Randy Foye makes 15-foot running jumper (Andray Blatche assists)
64 - 65
7:50
David Lee makes layup (Sergio Rodriguez assists)
66 - 65
7:31
Andray Blatche makes layup (Al Thornton assists)
66 - 67
7:22
Sergio Rodriguez traveling
66 - 67
7:09
Tracy McGrady personal foul (Andray Blatche draws the foul)
66 - 67
6:56
JaVale McGee makes layup (Andray Blatche assists)
66 - 69
6:43
Al Thornton shooting foul (Tracy McGrady draws the foul)
66 - 69
6:43
Tracy McGrady makes free throw 1 of 2
67 - 69
6:43
Quinton Ross enters the game for Al Thornton
67 - 69
6:43
Tracy McGrady misses free throw 2 of 2
67 - 69
6:41
JaVale McGee defensive rebound
67 - 69
6:26
Mike Miller makes two point shot (JaVale McGee assists)
67 - 71
6:13
Wilson Chandler traveling
67 - 71
5:58
Quinton Ross makes jumper (Randy Foye assists)
67 - 73
5:43
Tracy McGrady misses 5-foot jumper
67 - 73
5:43
David Lee offensive rebound
67 - 73
5:41
David Lee misses layup
67 - 73
5:39
JaVale McGee defensive rebound
67 - 73
5:35
Andray Blatche bad pass (Sergio Rodriguez steals)
67 - 73
5:30
Wilson Chandler makes 2-foot two point shot (Sergio Rodriguez assists)
69 - 73
5:11
Danilo Gallinari blocks Andray Blatche's 5-foot jumper
69 - 73
5:09
Tracy McGrady defensive rebound
69 - 73
5:05
Andray Blatche shooting foul (Tracy McGrady draws the foul)
69 - 73
5:05
Tracy McGrady makes free throw 1 of 2
70 - 73
5:05
Tracy McGrady misses free throw 2 of 2
70 - 73
5:03
Andray Blatche defensive rebound
70 - 73
4:46
Quinton Ross makes driving layup (Randy Foye assists)
70 - 75
4:35
Danilo Gallinari misses 25-foot three point jumper
70 - 75
4:33
New York defensive rebound
70 - 75
4:33
Fabricio Oberto enters the game for JaVale McGee
70 - 75
4:33
Al Harrington enters the game for Danilo Gallinari
70 - 75
4:33
Eddie House enters the game for Sergio Rodriguez
70 - 75
4:22
Quinton Ross misses 18-foot jumper
70 - 75
4:22
Al Harrington defensive rebound
70 - 75
4:05
Al Harrington makes driving layup
72 - 75
3:49
Andray Blatche makes 18-foot jumper (Randy Foye assists)
72 - 77
3:34
Tracy McGrady misses 15-foot jumper
72 - 77
3:33
David Lee offensive rebound
72 - 77
3:31
Andray Blatche blocks David Lee's jumper
72 - 77
3:29
Eddie House offensive rebound
72 - 77
3:25
Al Harrington makes 23-foot three point jumper (Eddie House assists)
75 - 77
3:12
Randy Foye makes 21-foot jumper
75 - 79
2:44
Tracy McGrady misses 21-foot jumper
75 - 79
2:42
Andray Blatche defensive rebound
75 - 79
2:31
Andray Blatche makes two point shot (Fabricio Oberto assists)
75 - 81
2:31
New York full timeout
75 - 81
2:31
Earl Boykins enters the game for Randy Foye
75 - 81
2:31
Bill Walker enters the game for Tracy McGrady
75 - 81
2:20
Eddie House misses 26-foot three point jumper
75 - 81
2:19
Andray Blatche defensive rebound
75 - 81
1:55
Andray Blatche makes 8-foot running jumper
75 - 83
1:45
Wilson Chandler offensive foul (Andray Blatche draws the foul)
75 - 83
1:45
Wilson Chandler turnover
75 - 83
1:20
Fabricio Oberto makes layup (Earl Boykins assists)
75 - 85
1:02
Eddie House makes 20-foot jumper
77 - 85
0:53
Mike Miller offensive foul (Al Harrington draws the foul)
77 - 85
0:53
Mike Miller turnover
77 - 85
0:53
Mike Harris enters the game for Mike Miller
77 - 85
0:42
Al Harrington makes 16-foot two point shot
79 - 85
0:18
Wilson Chandler blocks Andray Blatche's layup
79 - 85
0:16
Al Harrington defensive rebound
79 - 85
0:14
Eddie House makes layup (Al Harrington assists)
81 - 85
0:01
Quinton Ross misses 23-foot three point jumper
81 - 85
0:00
Washington offensive rebound
81 - 85
0:00
End of the 3rd Quarter
81 - 85

time
TEAM
PLAY
SCORE
12:00
Start of the 4th Quarter
81 - 85
11:48
Al Thornton offensive foul (Bill Walker draws the foul)
81 - 85
11:48
Al Thornton turnover
81 - 85
11:48
Mike Miller enters the game for Al Thornton
81 - 85
11:33
Eddie House misses 26-foot three point jumper
81 - 85
11:33
David Lee offensive rebound
81 - 85
11:30
David Lee makes two point shot
83 - 85
11:11
JaVale McGee misses 8-foot jumper
83 - 85
11:10
Andray Blatche offensive rebound
83 - 85
11:10
Andray Blatche makes layup
83 - 87
11:10
Al Harrington shooting foul (Andray Blatche draws the foul)
83 - 87
11:10
Andray Blatche misses free throw 1 of 1
83 - 87
11:08
Wilson Chandler defensive rebound
83 - 87
10:57
Al Harrington makes 26-foot three point jumper (David Lee assists)
86 - 87
10:33
Earl Boykins misses 17-foot jumper
86 - 87
10:33
JaVale McGee offensive rebound
86 - 87
10:30
JaVale McGee misses layup
86 - 87
10:30
JaVale McGee offensive rebound
86 - 87
10:27
JaVale McGee misses layup
86 - 87
10:26
Wilson Chandler defensive rebound
86 - 87
10:26
Mike Miller shooting foul (Al Harrington draws the foul)
86 - 87
10:26
Danilo Gallinari enters the game for Wilson Chandler
86 - 87
10:26
Al Harrington makes free throw 1 of 2
87 - 87
10:26
Al Harrington makes free throw 2 of 2
88 - 87
10:07
JaVale McGee makes dunk (Andray Blatche assists)
88 - 89
10:07
David Lee shooting foul (JaVale McGee draws the foul)
88 - 89
10:07
Randy Foye enters the game for Earl Boykins
88 - 89
10:07
JaVale McGee makes free throw 1 of 1
88 - 90
9:56
Al Harrington misses 17-foot jumper
88 - 90
9:56
Mike Miller defensive rebound
88 - 90
9:34
David Lee blocks Andray Blatche's 9-foot jumper
88 - 90
9:33
David Lee defensive rebound
88 - 90
9:26
JaVale McGee shooting foul (David Lee draws the foul)
88 - 90
9:26
David Lee misses free throw 1 of 2
88 - 90
9:26
New York offensive rebound
88 - 90
9:26
David Lee makes free throw 2 of 2
89 - 90
9:23
JaVale McGee bad pass (Al Harrington steals)
89 - 90
9:23
Al Harrington makes layup
91 - 90
9:23
JaVale McGee shooting foul (Al Harrington draws the foul)
91 - 90
9:23
Wilson Chandler enters the game for David Lee
91 - 90
9:23
Washington full timeout
91 - 90
9:23
Al Harrington makes free throw 1 of 1
92 - 90
9:06
Danilo Gallinari shooting foul (JaVale McGee draws the foul)
92 - 90
9:06
JaVale McGee misses free throw 1 of 2
92 - 90
9:06
Washington offensive rebound
92 - 90
9:06
Quinton Ross enters the game for Nick Young
92 - 90
9:06
JaVale McGee makes free throw 2 of 2
92 - 91
8:52
Al Harrington makes two point shot
94 - 91
8:33
Bill Walker personal foul (Andray Blatche draws the foul)
94 - 91
8:26
Eddie House shooting foul (Randy Foye draws the foul)
94 - 91
8:26
Randy Foye makes free throw 1 of 2
94 - 92
8:26
Nick Young enters the game for JaVale McGee
94 - 92
8:26
Randy Foye makes free throw 2 of 2
94 - 93
8:10
Mike Miller shooting foul (Danilo Gallinari draws the foul)
94 - 93
8:10
David Lee enters the game for Bill Walker
94 - 93
8:10
Danilo Gallinari misses free throw 1 of 2
94 - 93
8:10
New York offensive rebound
94 - 93
8:10
Danilo Gallinari makes free throw 2 of 2
95 - 93
7:54
Nick Young makes three point jumper (Andray Blatche assists)
95 - 96
7:41
Al Harrington bad pass
95 - 96
7:41
Shaun Livingston enters the game for Mike Miller
95 - 96
7:18
Nick Young misses 18-foot jumper
95 - 96
7:18
Eddie House defensive rebound
95 - 96
7:09
Quinton Ross shooting foul (David Lee draws the foul)
95 - 96
7:09
Sergio Rodriguez enters the game for Eddie House
95 - 96
7:09
David Lee makes free throw 1 of 2
96 - 96
7:09
David Lee makes free throw 2 of 2
97 - 96
6:48
Danilo Gallinari blocks Shaun Livingston's 15-foot jumper
97 - 96
6:47
David Lee defensive rebound
97 - 96
6:47
Randy Foye personal foul (Al Harrington draws the foul)
97 - 96
6:47
Al Harrington makes free throw 1 of 2
98 - 96
6:47
Al Thornton enters the game for Nick Young
98 - 96
6:47
Al Harrington makes free throw 2 of 2
99 - 96
6:28
Andray Blatche lost ball (Al Harrington steals)
99 - 96
6:13
Danilo Gallinari makes driving dunk (Al Harrington assists)
101 - 96
6:13
Washington full timeout
101 - 96
6:13
Mike Miller enters the game for Shaun Livingston
101 - 96
6:13
JaVale McGee enters the game for Quinton Ross
101 - 96
6:01
Randy Foye bad pass (David Lee steals)
101 - 96
5:46
Wilson Chandler misses 6-foot jumper
101 - 96
5:45
David Lee offensive rebound
101 - 96
5:41
David Lee makes layup
103 - 96
5:20
JaVale McGee makes 6-foot running jumper (Andray Blatche assists)
103 - 98
5:03
David Lee traveling
103 - 98
4:48
Al Thornton misses 25-foot three point jumper
103 - 98
4:48
David Lee defensive rebound
103 - 98
4:31
Al Harrington makes 17-foot jumper
105 - 98
4:13
JaVale McGee misses 9-foot jumper
105 - 98
4:11
JaVale McGee offensive rebound
105 - 98
4:09
JaVale McGee makes tip shot
105 - 100
3:57
Al Harrington misses 25-foot three point jumper
105 - 100
3:56
Mike Miller defensive rebound
105 - 100
3:47
Andray Blatche makes layup (Al Thornton assists)
105 - 102
3:47
New York full timeout
105 - 102
3:34
David Lee makes 14-foot two point shot (Al Harrington assists)
107 - 102
3:16
JaVale McGee makes layup (Mike Miller assists)
107 - 104
2:58
David Lee makes dunk (Wilson Chandler assists)
109 - 104
2:47
Mike Miller misses 25-foot three point jumper
109 - 104
2:46
David Lee defensive rebound
109 - 104
2:25
Al Harrington misses 24-foot three point jumper
109 - 104
2:23
Andray Blatche defensive rebound
109 - 104
2:19
Wilson Chandler shooting foul (Andray Blatche draws the foul)
109 - 104
2:19
Bill Walker enters the game for Al Harrington
109 - 104
2:19
Quinton Ross enters the game for JaVale McGee
109 - 104
2:19
Andray Blatche makes free throw 1 of 2
109 - 105
2:19
Andray Blatche misses free throw 2 of 2
109 - 105
2:18
David Lee defensive rebound
109 - 105
2:00
Bill Walker traveling
109 - 105
1:50
Bill Walker shooting foul (Al Thornton draws the foul)
109 - 105
1:50
Al Thornton misses free throw 1 of 2
109 - 105
1:50
Washington offensive rebound
109 - 105
1:50
Eddie House enters the game for Bill Walker
109 - 105
1:50
Al Thornton misses free throw 2 of 2
109 - 105
1:49
Eddie House defensive rebound
109 - 105
1:34
David Lee misses 17-foot jumper
109 - 105
1:34
New York defensive rebound
109 - 105
1:34
Al Harrington enters the game for Eddie House
109 - 105
1:25
Randy Foye makes 25-foot three point jumper
109 - 108
1:15
Sergio Rodriguez misses 5-foot jumper
109 - 108
1:13
Andray Blatche defensive rebound
109 - 108
1:07
Mike Miller makes layup (Randy Foye assists)
109 - 110
1:07
New York full timeout
109 - 110
1:00
Al Thornton personal foul (Al Harrington draws the foul)
109 - 110
1:00
Nick Young enters the game for Al Thornton
109 - 110
1:00
Al Harrington makes free throw 1 of 2
110 - 110
1:00
Al Harrington misses free throw 2 of 2
110 - 110
1:00
Andray Blatche defensive rebound
110 - 110
0:40
Mike Miller offensive foul (Al Harrington draws the foul)
110 - 110
0:40
Mike Miller turnover
110 - 110
0:40
JaVale McGee enters the game for Mike Miller
110 - 110
0:32
Al Harrington makes layup (David Lee assists)
112 - 110
0:32
JaVale McGee shooting foul (Al Harrington draws the foul)
112 - 110
0:32
Al Harrington misses free throw 1 of 1
112 - 110
0:32
Andray Blatche defensive rebound
112 - 110
0:32
Washington full timeout
112 - 110
0:32
Bill Walker enters the game for Sergio Rodriguez
112 - 110
0:25
Randy Foye makes 20-foot jumper
112 - 112
0:25
New York 20 Sec. timeout
112 - 112
0:25
Sergio Rodriguez enters the game for Bill Walker
112 - 112
0:01
JaVale McGee blocks Wilson Chandler's 7-foot jumper
112 - 112
0:00
Andray Blatche defensive rebound
112 - 112
0:00
Washington 20 Sec. timeout
112 - 112
0:00
Bill Walker enters the game for Sergio Rodriguez
112 - 112
0:00
End of the 4th Quarter
112 - 112

time
TEAM
PLAY
SCORE
5:00
Start of the 1st Overtime
112 - 112
5:00
Jumpball: David Lee vs. JaVale McGee (Randy Foye gains possession)
112 - 112
4:37
Randy Foye misses 26-foot three point jumper
112 - 112
4:37
Wilson Chandler defensive rebound
112 - 112
4:24
Danilo Gallinari traveling
112 - 112
4:16
Nick Young turnover
112 - 112
4:05
Eddie House misses 19-foot jumper
112 - 112
4:05
David Lee offensive rebound
112 - 112
4:05
Quinton Ross personal foul (David Lee draws the foul)
112 - 112
3:54
JaVale McGee blocks Al Harrington's layup
112 - 112
3:53
Nick Young defensive rebound
112 - 112
3:39
Wilson Chandler blocks Andray Blatche's 3-foot jumper
112 - 112
3:36
Andray Blatche offensive rebound
112 - 112
3:28
Randy Foye misses 13-foot jumper
112 - 112
3:27
Andray Blatche offensive rebound
112 - 112
3:25
Andray Blatche misses layup
112 - 112
3:24
Al Harrington defensive rebound
112 - 112
3:12
David Lee makes 14-foot jumper (Wilson Chandler assists)
114 - 112
2:47
JaVale McGee misses jumper
114 - 112
2:47
Washington defensive rebound
114 - 112
2:47
JaVale McGee personal foul (David Lee draws the foul)
114 - 112
2:34
Eddie House misses 19-foot jumper
114 - 112
2:32
JaVale McGee defensive rebound
114 - 112
2:18
Nick Young misses three point jumper
114 - 112
2:17
Eddie House defensive rebound
114 - 112
2:05
Al Harrington misses 18-foot jumper
114 - 112
2:03
Andray Blatche defensive rebound
114 - 112
1:47
Quinton Ross offensive foul (Danilo Gallinari draws the foul)
114 - 112
1:47
Quinton Ross turnover
114 - 112
1:47
New York 20 Sec. timeout
114 - 112
1:47
Mike Harris enters the game for Quinton Ross
114 - 112
1:29
Andray Blatche shooting foul (Al Harrington draws the foul)
114 - 112
1:29
Al Harrington misses free throw 1 of 2
114 - 112
1:29
New York offensive rebound
114 - 112
1:29
Al Harrington misses free throw 2 of 2
114 - 112
1:28
Mike Harris defensive rebound
114 - 112
1:05
Randy Foye misses 16-foot jumper
114 - 112
1:04
Wilson Chandler defensive rebound
114 - 112
0:45
Al Harrington offensive foul (Nick Young draws the foul)
114 - 112
0:45
Al Harrington turnover
114 - 112
0:45
Washington full timeout
114 - 112
0:45
Shaun Livingston enters the game for Mike Harris
114 - 112
0:45
turnover
114 - 112
0:45
Mike Harris enters the game for Shaun Livingston
114 - 112
0:28
JaVale McGee blocks David Lee's 6-foot jumper
114 - 112
0:28
New York offensive rebound
114 - 112
0:28
New York 20 Sec. timeout
114 - 112
0:21
Eddie House misses 25-foot three point jumper
114 - 112
0:21
JaVale McGee defensive rebound
114 - 112
0:21
Washington 20 Sec. timeout
114 - 112
0:21
Bill Walker enters the game for Eddie House
114 - 112
0:13
David Lee shooting foul (JaVale McGee draws the foul)
114 - 112
0:13
JaVale McGee makes free throw 1 of 2
114 - 113
0:13
Eddie House enters the game for Bill Walker
114 - 113
0:13
JaVale McGee misses free throw 2 of 2
114 - 113
0:12
Washington defensive rebound
114 - 113
0:12
Mike Harris loose ball foul (Al Harrington draws the foul)
114 - 113
0:12
Al Harrington makes free throw 1 of 2
115 - 113
0:12
Al Harrington makes free throw 2 of 2
116 - 113
0:12
Washington 20 Sec. timeout
116 - 113
0:12
Earl Boykins enters the game for Mike Harris
116 - 113
0:12
Bill Walker enters the game for Eddie House
116 - 113
0:06
Nick Young makes 25-foot three point jumper (JaVale McGee assists)
116 - 116
0:06
New York full timeout
116 - 116
0:06
Eddie House enters the game for Bill Walker
116 - 116
0:06
Mike Harris enters the game for Earl Boykins
116 - 116
0:01
David Lee makes layup
118 - 116
0:00
JaVale McGee bad pass (Eddie House steals)
118 - 116
0:00
End of the 1st Overtime
118 - 116
0:00
End Game
118 - 116
Kevin Durant reflects on his need for extra practice time to get acquainted with his new Warriors teammates, but is confident in his abilities and is looking forward to getting the preseason started.

The New York Knicks are getting ready for the regular season with a 5-on-5 scrimmage during practice.

The Clippers had a surprise visitor on their third day of training camp as the now retired Kevin Garnett showed up to work with the team's big men.
Regular Season Series
NY wins series 3-1
2015-2016 Atlantic Standings
2015-2016 Southeast Standings