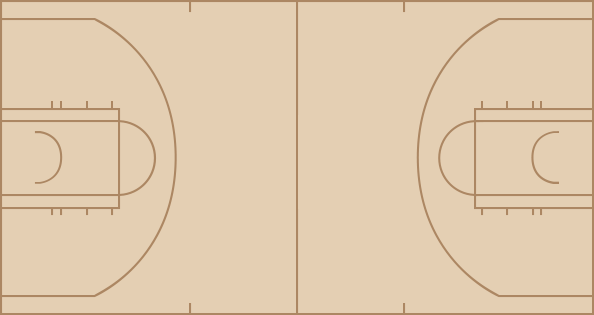 Knicks
time
TEAM
PLAY
SCORE
12:00
Start of the 1st Quarter
0 - 0
12:00
Jumpball: Wilson Chandler vs. Andray Blatche (Al Thornton gains possession)
0 - 0
11:42
Danilo Gallinari personal foul (Al Thornton draws the foul)
0 - 0
11:34
Al Thornton misses 17-foot jumper
0 - 0
11:33
James Singleton offensive rebound
0 - 0
11:25
Andray Blatche makes 25-foot three point jumper (Al Thornton assists)
0 - 3
11:11
Wilson Chandler makes layup (David Lee assists)
2 - 3
10:52
Randy Foye traveling
2 - 3
10:40
David Lee offensive foul (James Singleton draws the foul)
2 - 3
10:40
David Lee turnover
2 - 3
10:26
Al Thornton makes 19-foot jumper (James Singleton assists)
2 - 5
10:07
James Singleton blocks David Lee's 6-foot jumper
2 - 5
10:07
New York offensive rebound
2 - 5
10:06
Wilson Chandler misses 3-foot jumper
2 - 5
10:04
Tracy McGrady offensive rebound
2 - 5
10:00
Wilson Chandler makes layup (Tracy McGrady assists)
4 - 5
9:41
Andray Blatche makes 17-foot two point shot (Mike Miller assists)
4 - 7
9:22
Wilson Chandler misses 24-foot three point jumper
4 - 7
9:21
Al Thornton defensive rebound
4 - 7
9:12
Andray Blatche lost ball (Sergio Rodriguez steals)
4 - 7
9:04
Wilson Chandler bad pass (James Singleton steals)
4 - 7
8:57
Al Thornton makes layup (Randy Foye assists)
4 - 9
8:41
David Lee makes 18-foot jumper (Sergio Rodriguez assists)
6 - 9
8:21
Al Thornton makes 25-foot three point jumper (Mike Miller assists)
6 - 12
8:02
Tracy McGrady makes driving layup
8 - 12
8:02
James Singleton shooting foul (Tracy McGrady draws the foul)
8 - 12
8:02
Tracy McGrady makes free throw 1 of 1
9 - 12
7:47
Randy Foye bad pass (Wilson Chandler steals)
9 - 12
7:37
David Lee misses 13-foot jumper
9 - 12
7:35
James Singleton defensive rebound
9 - 12
7:22
Randy Foye makes 24-foot three point jumper
9 - 15
7:13
Sergio Rodriguez makes driving layup
11 - 15
6:56
Mike Miller misses 17-foot jumper
11 - 15
6:54
Danilo Gallinari defensive rebound
11 - 15
6:45
Tracy McGrady misses 19-foot jumper
11 - 15
6:43
Randy Foye defensive rebound
11 - 15
6:39
James Singleton makes layup (Randy Foye assists)
11 - 17
6:22
James Singleton blocks David Lee's 9-foot jumper
11 - 17
6:22
New York offensive rebound
11 - 17
6:20
James Singleton blocks Wilson Chandler's 9-foot jumper
11 - 17
6:18
New York offensive rebound
11 - 17
6:16
Andray Blatche blocks Wilson Chandler's layup
11 - 17
6:16
New York offensive rebound
11 - 17
6:07
Danilo Gallinari makes driving layup
13 - 17
5:50
Tracy McGrady personal foul (Al Thornton draws the foul)
13 - 17
5:50
Washington full timeout
13 - 17
5:50
Eddie House enters the game for Wilson Chandler
13 - 17
5:50
Al Harrington enters the game for Sergio Rodriguez
13 - 17
5:37
Al Thornton misses 4-foot jumper
13 - 17
5:35
David Lee defensive rebound
13 - 17
5:31
Tracy McGrady makes layup (Eddie House assists)
15 - 17
5:31
Mike Miller shooting foul (Tracy McGrady draws the foul)
15 - 17
5:31
Tracy McGrady makes free throw 1 of 1
16 - 17
5:13
Andray Blatche lost ball (Eddie House steals)
16 - 17
5:03
Eddie House misses 23-foot three point jumper
16 - 17
5:01
Al Thornton defensive rebound
16 - 17
4:48
Al Harrington illegal defense foul (1st personal foul)
16 - 17
4:48
Randy Foye misses technical free throw
16 - 17
4:48
Washington offensive rebound
16 - 17
4:48
Earl Boykins enters the game for Randy Foye
16 - 17
4:39
Andray Blatche misses 16-foot jumper
16 - 17
4:39
Al Thornton offensive rebound
16 - 17
4:26
Earl Boykins makes 25-foot three point jumper (Al Thornton assists)
16 - 20
4:07
David Lee bad pass (Andray Blatche steals)
16 - 20
3:55
Tracy McGrady blocks Andray Blatche's 7-foot jumper
16 - 20
3:51
Eddie House defensive rebound
16 - 20
3:50
David Lee offensive foul (Andray Blatche draws the foul)
16 - 20
3:50
David Lee turnover
16 - 20
3:50
JaVale McGee enters the game for James Singleton
16 - 20
3:50
Bill Walker enters the game for David Lee
16 - 20
3:31
Al Thornton misses 15-foot jumper
16 - 20
3:31
JaVale McGee offensive rebound
16 - 20
3:28
JaVale McGee makes 1-foot two point shot
16 - 22
3:15
JaVale McGee blocks Tracy McGrady's 3-foot jumper
16 - 22
3:15
Danilo Gallinari offensive rebound
16 - 22
3:15
Mike Miller personal foul (Bill Walker draws the foul)
16 - 22
3:15
Nick Young enters the game for Mike Miller
16 - 22
3:08
Tracy McGrady makes 14-foot jumper (Al Harrington assists)
18 - 22
2:58
Al Harrington personal foul (Andray Blatche draws the foul)
18 - 22
2:58
New York full timeout
18 - 22
2:58
Toney Douglas enters the game for Danilo Gallinari
18 - 22
2:47
Toney Douglas personal foul (Andray Blatche draws the foul)
18 - 22
2:44
Eddie House shooting foul (Nick Young draws the foul)
18 - 22
2:44
Nick Young misses free throw 1 of 2
18 - 22
2:44
Washington offensive rebound
18 - 22
2:44
Nick Young makes free throw 2 of 2
18 - 23
2:33
Tracy McGrady misses 4-foot jumper
18 - 23
2:32
Andray Blatche defensive rebound
18 - 23
2:28
Earl Boykins makes 20-foot jumper (Andray Blatche assists)
18 - 25
2:14
Al Harrington misses 5-foot jumper
18 - 25
2:13
Al Harrington offensive rebound
18 - 25
2:12
Nick Young personal foul (Al Harrington draws the foul)
18 - 25
2:03
Al Thornton personal foul (Tracy McGrady draws the foul)
18 - 25
2:03
Tracy McGrady makes free throw 1 of 2
19 - 25
2:03
Tracy McGrady makes free throw 2 of 2
20 - 25
1:47
Andray Blatche makes 2-foot two point shot (Nick Young assists)
20 - 27
1:34
Andray Blatche blocks Bill Walker's jumper
20 - 27
1:31
Bill Walker offensive rebound
20 - 27
1:31
Quinton Ross enters the game for Al Thornton
20 - 27
1:23
Tracy McGrady misses 17-foot jumper
20 - 27
1:22
Andray Blatche defensive rebound
20 - 27
1:09
Andray Blatche offensive foul (Al Harrington draws the foul)
20 - 27
1:09
Andray Blatche turnover
20 - 27
1:09
Wilson Chandler enters the game for Tracy McGrady
20 - 27
0:59
Bill Walker traveling
20 - 27
0:47
JaVale McGee makes layup (Earl Boykins assists)
20 - 29
0:47
Wilson Chandler shooting foul (JaVale McGee draws the foul)
20 - 29
0:47
James Singleton enters the game for Andray Blatche
20 - 29
0:47
JaVale McGee makes free throw 1 of 1
20 - 30
0:40
Nick Young personal foul (Toney Douglas draws the foul)
20 - 30
0:40
Toney Douglas makes free throw 1 of 2
21 - 30
0:40
Toney Douglas makes free throw 2 of 2
22 - 30
0:28
Nick Young misses 23-foot three point jumper
22 - 30
0:27
Al Harrington defensive rebound
22 - 30
0:21
Eddie House misses 26-foot three point jumper
22 - 30
0:21
Bill Walker offensive rebound
22 - 30
0:18
Bill Walker makes slam dunk
24 - 30
0:01
Earl Boykins misses 17-foot jumper
24 - 30
0:00
Eddie House defensive rebound
24 - 30
0:00
End of the 1st Quarter
24 - 30

time
TEAM
PLAY
SCORE
12:00
Start of the 2nd Quarter
24 - 30
11:45
Al Harrington makes 27-foot three point jumper (Eddie House assists)
27 - 30
11:22
James Singleton misses jumper
27 - 30
11:21
Al Harrington defensive rebound
27 - 30
11:04
Al Harrington misses 26-foot three point jumper
27 - 30
11:04
New York defensive rebound
27 - 30
10:55
James Singleton makes layup (Earl Boykins assists)
27 - 32
10:49
Quinton Ross personal foul (Bill Walker draws the foul)
27 - 32
10:49
Andray Blatche enters the game for James Singleton
27 - 32
10:44
Eddie House misses 19-foot jumper
27 - 32
10:42
Andray Blatche defensive rebound
27 - 32
10:30
Nick Young misses layup
27 - 32
10:29
Al Harrington defensive rebound
27 - 32
10:27
Toney Douglas traveling
27 - 32
10:12
Andray Blatche misses 13-foot jumper
27 - 32
10:11
Eddie House defensive rebound
27 - 32
10:00
Al Harrington makes driving dunk (Eddie House assists)
29 - 32
9:37
JaVale McGee lost ball (Bill Walker steals)
29 - 32
9:36
Bill Walker bad pass
29 - 32
9:36
Sergio Rodriguez enters the game for Eddie House
29 - 32
9:36
Danilo Gallinari enters the game for Bill Walker
29 - 32
9:22
Earl Boykins makes 18-foot jumper
29 - 34
9:12
Sergio Rodriguez traveling
29 - 34
9:06
Earl Boykins misses 3-foot jumper
29 - 34
9:04
Toney Douglas defensive rebound
29 - 34
9:00
Quinton Ross shooting foul (Wilson Chandler draws the foul)
29 - 34
9:00
Wilson Chandler makes free throw 1 of 2
30 - 34
9:00
Randy Foye enters the game for Earl Boykins
30 - 34
9:00
Al Thornton enters the game for JaVale McGee
30 - 34
9:00
Mike Miller enters the game for Nick Young
30 - 34
9:00
Wilson Chandler misses free throw 2 of 2
30 - 34
8:53
Mike Miller defensive rebound
30 - 34
8:44
Andray Blatche traveling
30 - 34
8:44
Official timeout
30 - 34
8:33
Al Harrington turnover
30 - 34
8:23
Randy Foye makes jumper
30 - 36
8:11
Wilson Chandler makes driving dunk (Sergio Rodriguez assists)
32 - 36
7:56
Danilo Gallinari blocks Andray Blatche's jumper
32 - 36
7:54
Al Thornton offensive rebound
32 - 36
7:52
Al Thornton makes dunk
32 - 38
7:31
Al Harrington misses 9-foot jumper
32 - 38
7:30
Mike Miller defensive rebound
32 - 38
7:26
Sergio Rodriguez shooting foul (Andray Blatche draws the foul)
32 - 38
7:26
David Lee enters the game for Toney Douglas
32 - 38
7:26
Andray Blatche makes free throw 1 of 2
32 - 39
7:26
Andray Blatche makes free throw 2 of 2
32 - 40
7:05
Al Harrington makes 26-foot three point jumper (Sergio Rodriguez assists)
35 - 40
6:45
Quinton Ross makes 13-foot running jumper (Randy Foye assists)
35 - 42
6:45
Danilo Gallinari shooting foul (Quinton Ross draws the foul)
35 - 42
6:45
Quinton Ross makes free throw 1 of 1
35 - 43
6:28
David Lee makes driving dunk (Wilson Chandler assists)
37 - 43
5:58
Andray Blatche misses 23-foot three point jumper
37 - 43
5:56
Danilo Gallinari defensive rebound
37 - 43
5:54
Sergio Rodriguez misses layup
37 - 43
5:52
Andray Blatche defensive rebound
37 - 43
5:46
Al Thornton makes layup (Randy Foye assists)
37 - 45
5:20
Al Harrington misses 5-foot jumper
37 - 45
5:20
Andray Blatche defensive rebound
37 - 45
5:15
Mike Miller makes 25-foot three point jumper (Randy Foye assists)
37 - 48
5:15
New York full timeout
37 - 48
5:15
Tracy McGrady enters the game for Al Harrington
37 - 48
4:58
Danilo Gallinari makes 5-foot running jumper
39 - 48
4:37
Mike Miller makes 26-foot three point jumper (Al Thornton assists)
39 - 51
4:13
Tracy McGrady makes 19-foot jumper (David Lee assists)
41 - 51
3:51
Mike Miller misses 26-foot three point jumper
41 - 51
3:50
David Lee defensive rebound
41 - 51
3:40
Danilo Gallinari makes jumper (Tracy McGrady assists)
43 - 51
3:31
Washington full timeout
43 - 51
3:20
Andray Blatche makes driving layup (Randy Foye assists)
43 - 53
3:01
Wilson Chandler misses 4-foot jumper
43 - 53
3:00
Mike Miller defensive rebound
43 - 53
2:54
Mike Miller misses 21-foot jumper
43 - 53
2:53
David Lee defensive rebound
43 - 53
2:46
Wilson Chandler makes jumper (Sergio Rodriguez assists)
45 - 53
2:31
Sergio Rodriguez shooting foul (Randy Foye draws the foul)
45 - 53
2:31
Randy Foye makes free throw 1 of 2
45 - 54
2:31
Randy Foye misses free throw 2 of 2
45 - 54
2:29
David Lee defensive rebound
45 - 54
2:11
David Lee misses 5-foot jumper
45 - 54
2:10
Andray Blatche defensive rebound
45 - 54
2:00
Quinton Ross misses 18-foot jumper
45 - 54
1:59
Danilo Gallinari defensive rebound
45 - 54
1:42
Tracy McGrady makes layup
47 - 54
1:20
Randy Foye makes 24-foot three point jumper (Mike Miller assists)
47 - 57
1:07
Quinton Ross personal foul (Tracy McGrady draws the foul)
47 - 57
1:07
Nick Young enters the game for Quinton Ross
47 - 57
1:01
Al Thornton shooting foul (David Lee draws the foul)
47 - 57
1:01
David Lee makes free throw 1 of 2
48 - 57
1:01
David Lee makes free throw 2 of 2
49 - 57
0:52
Randy Foye makes 21-foot jumper
49 - 59
0:31
David Lee offensive foul (Randy Foye draws the foul)
49 - 59
0:31
David Lee turnover
49 - 59
0:31
Shaun Livingston enters the game for Al Thornton
49 - 59
0:31
Mike Harris enters the game for Mike Miller
49 - 59
0:31
Al Harrington enters the game for David Lee
49 - 59
0:06
Nick Young misses jumper
49 - 59
0:05
Sergio Rodriguez defensive rebound
49 - 59
0:01
Al Harrington makes 28-foot three point jumper (Sergio Rodriguez assists)
52 - 59
0:00
End of the 2nd Quarter
52 - 59

time
TEAM
PLAY
SCORE
12:00
Start of the 3rd Quarter
52 - 59
11:48
Tracy McGrady makes layup (David Lee assists)
54 - 59
11:30
Andray Blatche makes 18-foot jumper (Mike Miller assists)
54 - 61
11:07
Sergio Rodriguez makes 25-foot three point jumper (Wilson Chandler assists)
57 - 61
10:52
Andray Blatche turnover
57 - 61
10:40
Tracy McGrady misses 26-foot three point jumper
57 - 61
10:38
JaVale McGee defensive rebound
57 - 61
10:29
Andray Blatche 3 second
57 - 61
10:14
Tracy McGrady makes 16-foot two point shot
59 - 61
10:14
Al Thornton shooting foul (Tracy McGrady draws the foul)
59 - 61
10:14
Tracy McGrady makes free throw 1 of 1
60 - 61
9:53
Danilo Gallinari blocks Al Thornton's 5-foot jumper
60 - 61
9:52
David Lee defensive rebound
60 - 61
9:44
JaVale McGee blocks Wilson Chandler's jumper
60 - 61
9:42
New York offensive rebound
60 - 61
9:41
David Lee makes 17-foot jumper (Tracy McGrady assists)
62 - 61
9:40
Washington full timeout
62 - 61
9:30
Mike Miller makes driving layup
62 - 63
9:11
Al Thornton blocks Tracy McGrady's 18-foot jumper
62 - 63
9:10
Mike Miller defensive rebound
62 - 63
9:04
Mike Miller misses 18-foot jumper
62 - 63
9:02
Tracy McGrady defensive rebound
62 - 63
8:57
Mike Miller blocks Wilson Chandler's layup
62 - 63
8:55
JaVale McGee defensive rebound
62 - 63
8:51
Al Thornton misses jumper
62 - 63
8:48
David Lee defensive rebound
62 - 63
8:33
Tracy McGrady makes driving layup
64 - 63
8:11
Randy Foye makes 15-foot running jumper (Andray Blatche assists)
64 - 65
7:50
David Lee makes layup (Sergio Rodriguez assists)
66 - 65
7:31
Andray Blatche makes layup (Al Thornton assists)
66 - 67
7:22
Sergio Rodriguez traveling
66 - 67
7:09
Tracy McGrady personal foul (Andray Blatche draws the foul)
66 - 67
6:56
JaVale McGee makes layup (Andray Blatche assists)
66 - 69
6:43
Al Thornton shooting foul (Tracy McGrady draws the foul)
66 - 69
6:43
Tracy McGrady makes free throw 1 of 2
67 - 69
6:43
Quinton Ross enters the game for Al Thornton
67 - 69
6:43
Tracy McGrady misses free throw 2 of 2
67 - 69
6:41
JaVale McGee defensive rebound
67 - 69
6:26
Mike Miller makes two point shot (JaVale McGee assists)
67 - 71
6:13
Wilson Chandler traveling
67 - 71
5:58
Quinton Ross makes jumper (Randy Foye assists)
67 - 73
5:43
Tracy McGrady misses 5-foot jumper
67 - 73
5:43
David Lee offensive rebound
67 - 73
5:41
David Lee misses layup
67 - 73
5:39
JaVale McGee defensive rebound
67 - 73
5:35
Andray Blatche bad pass (Sergio Rodriguez steals)
67 - 73
5:30
Wilson Chandler makes 2-foot two point shot (Sergio Rodriguez assists)
69 - 73
5:11
Danilo Gallinari blocks Andray Blatche's 5-foot jumper
69 - 73
5:09
Tracy McGrady defensive rebound
69 - 73
5:05
Andray Blatche shooting foul (Tracy McGrady draws the foul)
69 - 73
5:05
Tracy McGrady makes free throw 1 of 2
70 - 73
5:05
Tracy McGrady misses free throw 2 of 2
70 - 73
5:03
Andray Blatche defensive rebound
70 - 73
4:46
Quinton Ross makes driving layup (Randy Foye assists)
70 - 75
4:35
Danilo Gallinari misses 25-foot three point jumper
70 - 75
4:33
New York defensive rebound
70 - 75
4:33
Fabricio Oberto enters the game for JaVale McGee
70 - 75
4:33
Al Harrington enters the game for Danilo Gallinari
70 - 75
4:33
Eddie House enters the game for Sergio Rodriguez
70 - 75
4:22
Quinton Ross misses 18-foot jumper
70 - 75
4:22
Al Harrington defensive rebound
70 - 75
4:05
Al Harrington makes driving layup
72 - 75
3:49
Andray Blatche makes 18-foot jumper (Randy Foye assists)
72 - 77
3:34
Tracy McGrady misses 15-foot jumper
72 - 77
3:33
David Lee offensive rebound
72 - 77
3:31
Andray Blatche blocks David Lee's jumper
72 - 77
3:29
Eddie House offensive rebound
72 - 77
3:25
Al Harrington makes 23-foot three point jumper (Eddie House assists)
75 - 77
3:12
Randy Foye makes 21-foot jumper
75 - 79
2:44
Tracy McGrady misses 21-foot jumper
75 - 79
2:42
Andray Blatche defensive rebound
75 - 79
2:31
Andray Blatche makes two point shot (Fabricio Oberto assists)
75 - 81
2:31
New York full timeout
75 - 81
2:31
Earl Boykins enters the game for Randy Foye
75 - 81
2:31
Bill Walker enters the game for Tracy McGrady
75 - 81
2:20
Eddie House misses 26-foot three point jumper
75 - 81
2:19
Andray Blatche defensive rebound
75 - 81
1:55
Andray Blatche makes 8-foot running jumper
75 - 83
1:45
Wilson Chandler offensive foul (Andray Blatche draws the foul)
75 - 83
1:45
Wilson Chandler turnover
75 - 83
1:20
Fabricio Oberto makes layup (Earl Boykins assists)
75 - 85
1:02
Eddie House makes 20-foot jumper
77 - 85
0:53
Mike Miller offensive foul (Al Harrington draws the foul)
77 - 85
0:53
Mike Miller turnover
77 - 85
0:53
Mike Harris enters the game for Mike Miller
77 - 85
0:42
Al Harrington makes 16-foot two point shot
79 - 85
0:18
Wilson Chandler blocks Andray Blatche's layup
79 - 85
0:16
Al Harrington defensive rebound
79 - 85
0:14
Eddie House makes layup (Al Harrington assists)
81 - 85
0:01
Quinton Ross misses 23-foot three point jumper
81 - 85
0:00
Washington offensive rebound
81 - 85
0:00
End of the 3rd Quarter
81 - 85

time
TEAM
PLAY
SCORE
12:00
Start of the 4th Quarter
81 - 85
11:48
Al Thornton offensive foul (Bill Walker draws the foul)
81 - 85
11:48
Al Thornton turnover
81 - 85
11:48
Mike Miller enters the game for Al Thornton
81 - 85
11:33
Eddie House misses 26-foot three point jumper
81 - 85
11:33
David Lee offensive rebound
81 - 85
11:30
David Lee makes two point shot
83 - 85
11:11
JaVale McGee misses 8-foot jumper
83 - 85
11:10
Andray Blatche offensive rebound
83 - 85
11:10
Andray Blatche makes layup
83 - 87
11:10
Al Harrington shooting foul (Andray Blatche draws the foul)
83 - 87
11:10
Andray Blatche misses free throw 1 of 1
83 - 87
11:08
Wilson Chandler defensive rebound
83 - 87
10:57
Al Harrington makes 26-foot three point jumper (David Lee assists)
86 - 87
10:33
Earl Boykins misses 17-foot jumper
86 - 87
10:33
JaVale McGee offensive rebound
86 - 87
10:30
JaVale McGee misses layup
86 - 87
10:30
JaVale McGee offensive rebound
86 - 87
10:27
JaVale McGee misses layup
86 - 87
10:26
Wilson Chandler defensive rebound
86 - 87
10:26
Mike Miller shooting foul (Al Harrington draws the foul)
86 - 87
10:26
Danilo Gallinari enters the game for Wilson Chandler
86 - 87
10:26
Al Harrington makes free throw 1 of 2
87 - 87
10:26
Al Harrington makes free throw 2 of 2
88 - 87
10:07
JaVale McGee makes dunk (Andray Blatche assists)
88 - 89
10:07
David Lee shooting foul (JaVale McGee draws the foul)
88 - 89
10:07
Randy Foye enters the game for Earl Boykins
88 - 89
10:07
JaVale McGee makes free throw 1 of 1
88 - 90
9:56
Al Harrington misses 17-foot jumper
88 - 90
9:56
Mike Miller defensive rebound
88 - 90
9:34
David Lee blocks Andray Blatche's 9-foot jumper
88 - 90
9:33
David Lee defensive rebound
88 - 90
9:26
JaVale McGee shooting foul (David Lee draws the foul)
88 - 90
9:26
David Lee misses free throw 1 of 2
88 - 90
9:26
New York offensive rebound
88 - 90
9:26
David Lee makes free throw 2 of 2
89 - 90
9:23
JaVale McGee bad pass (Al Harrington steals)
89 - 90
9:23
Al Harrington makes layup
91 - 90
9:23
JaVale McGee shooting foul (Al Harrington draws the foul)
91 - 90
9:23
Wilson Chandler enters the game for David Lee
91 - 90
9:23
Washington full timeout
91 - 90
9:23
Al Harrington makes free throw 1 of 1
92 - 90
9:06
Danilo Gallinari shooting foul (JaVale McGee draws the foul)
92 - 90
9:06
JaVale McGee misses free throw 1 of 2
92 - 90
9:06
Washington offensive rebound
92 - 90
9:06
Quinton Ross enters the game for Nick Young
92 - 90
9:06
JaVale McGee makes free throw 2 of 2
92 - 91
8:52
Al Harrington makes two point shot
94 - 91
8:33
Bill Walker personal foul (Andray Blatche draws the foul)
94 - 91
8:26
Eddie House shooting foul (Randy Foye draws the foul)
94 - 91
8:26
Randy Foye makes free throw 1 of 2
94 - 92
8:26
Nick Young enters the game for JaVale McGee
94 - 92
8:26
Randy Foye makes free throw 2 of 2
94 - 93
8:10
Mike Miller shooting foul (Danilo Gallinari draws the foul)
94 - 93
8:10
David Lee enters the game for Bill Walker
94 - 93
8:10
Danilo Gallinari misses free throw 1 of 2
94 - 93
8:10
New York offensive rebound
94 - 93
8:10
Danilo Gallinari makes free throw 2 of 2
95 - 93
7:54
Nick Young makes three point jumper (Andray Blatche assists)
95 - 96
7:41
Al Harrington bad pass
95 - 96
7:41
Shaun Livingston enters the game for Mike Miller
95 - 96
7:18
Nick Young misses 18-foot jumper
95 - 96
7:18
Eddie House defensive rebound
95 - 96
7:09
Quinton Ross shooting foul (David Lee draws the foul)
95 - 96
7:09
Sergio Rodriguez enters the game for Eddie House
95 - 96
7:09
David Lee makes free throw 1 of 2
96 - 96
7:09
David Lee makes free throw 2 of 2
97 - 96
6:48
Danilo Gallinari blocks Shaun Livingston's 15-foot jumper
97 - 96
6:47
David Lee defensive rebound
97 - 96
6:47
Randy Foye personal foul (Al Harrington draws the foul)
97 - 96
6:47
Al Harrington makes free throw 1 of 2
98 - 96
6:47
Al Thornton enters the game for Nick Young
98 - 96
6:47
Al Harrington makes free throw 2 of 2
99 - 96
6:28
Andray Blatche lost ball (Al Harrington steals)
99 - 96
6:13
Danilo Gallinari makes driving dunk (Al Harrington assists)
101 - 96
6:13
Washington full timeout
101 - 96
6:13
Mike Miller enters the game for Shaun Livingston
101 - 96
6:13
JaVale McGee enters the game for Quinton Ross
101 - 96
6:01
Randy Foye bad pass (David Lee steals)
101 - 96
5:46
Wilson Chandler misses 6-foot jumper
101 - 96
5:45
David Lee offensive rebound
101 - 96
5:41
David Lee makes layup
103 - 96
5:20
JaVale McGee makes 6-foot running jumper (Andray Blatche assists)
103 - 98
5:03
David Lee traveling
103 - 98
4:48
Al Thornton misses 25-foot three point jumper
103 - 98
4:48
David Lee defensive rebound
103 - 98
4:31
Al Harrington makes 17-foot jumper
105 - 98
4:13
JaVale McGee misses 9-foot jumper
105 - 98
4:11
JaVale McGee offensive rebound
105 - 98
4:09
JaVale McGee makes tip shot
105 - 100
3:57
Al Harrington misses 25-foot three point jumper
105 - 100
3:56
Mike Miller defensive rebound
105 - 100
3:47
Andray Blatche makes layup (Al Thornton assists)
105 - 102
3:47
New York full timeout
105 - 102
3:34
David Lee makes 14-foot two point shot (Al Harrington assists)
107 - 102
3:16
JaVale McGee makes layup (Mike Miller assists)
107 - 104
2:58
David Lee makes dunk (Wilson Chandler assists)
109 - 104
2:47
Mike Miller misses 25-foot three point jumper
109 - 104
2:46
David Lee defensive rebound
109 - 104
2:25
Al Harrington misses 24-foot three point jumper
109 - 104
2:23
Andray Blatche defensive rebound
109 - 104
2:19
Wilson Chandler shooting foul (Andray Blatche draws the foul)
109 - 104
2:19
Bill Walker enters the game for Al Harrington
109 - 104
2:19
Quinton Ross enters the game for JaVale McGee
109 - 104
2:19
Andray Blatche makes free throw 1 of 2
109 - 105
2:19
Andray Blatche misses free throw 2 of 2
109 - 105
2:18
David Lee defensive rebound
109 - 105
2:00
Bill Walker traveling
109 - 105
1:50
Bill Walker shooting foul (Al Thornton draws the foul)
109 - 105
1:50
Al Thornton misses free throw 1 of 2
109 - 105
1:50
Washington offensive rebound
109 - 105
1:50
Eddie House enters the game for Bill Walker
109 - 105
1:50
Al Thornton misses free throw 2 of 2
109 - 105
1:49
Eddie House defensive rebound
109 - 105
1:34
David Lee misses 17-foot jumper
109 - 105
1:34
New York defensive rebound
109 - 105
1:34
Al Harrington enters the game for Eddie House
109 - 105
1:25
Randy Foye makes 25-foot three point jumper
109 - 108
1:15
Sergio Rodriguez misses 5-foot jumper
109 - 108
1:13
Andray Blatche defensive rebound
109 - 108
1:07
Mike Miller makes layup (Randy Foye assists)
109 - 110
1:07
New York full timeout
109 - 110
1:00
Al Thornton personal foul (Al Harrington draws the foul)
109 - 110
1:00
Nick Young enters the game for Al Thornton
109 - 110
1:00
Al Harrington makes free throw 1 of 2
110 - 110
1:00
Al Harrington misses free throw 2 of 2
110 - 110
1:00
Andray Blatche defensive rebound
110 - 110
0:40
Mike Miller offensive foul (Al Harrington draws the foul)
110 - 110
0:40
Mike Miller turnover
110 - 110
0:40
JaVale McGee enters the game for Mike Miller
110 - 110
0:32
Al Harrington makes layup (David Lee assists)
112 - 110
0:32
JaVale McGee shooting foul (Al Harrington draws the foul)
112 - 110
0:32
Al Harrington misses free throw 1 of 1
112 - 110
0:32
Andray Blatche defensive rebound
112 - 110
0:32
Washington full timeout
112 - 110
0:32
Bill Walker enters the game for Sergio Rodriguez
112 - 110
0:25
Randy Foye makes 20-foot jumper
112 - 112
0:25
New York 20 Sec. timeout
112 - 112
0:25
Sergio Rodriguez enters the game for Bill Walker
112 - 112
0:01
JaVale McGee blocks Wilson Chandler's 7-foot jumper
112 - 112
0:00
Andray Blatche defensive rebound
112 - 112
0:00
Washington 20 Sec. timeout
112 - 112
0:00
Bill Walker enters the game for Sergio Rodriguez
112 - 112
0:00
End of the 4th Quarter
112 - 112

time
TEAM
PLAY
SCORE
5:00
Start of the 1st Overtime
112 - 112
5:00
Jumpball: David Lee vs. JaVale McGee (Randy Foye gains possession)
112 - 112
4:37
Randy Foye misses 26-foot three point jumper
112 - 112
4:37
Wilson Chandler defensive rebound
112 - 112
4:24
Danilo Gallinari traveling
112 - 112
4:16
Nick Young turnover
112 - 112
4:05
Eddie House misses 19-foot jumper
112 - 112
4:05
David Lee offensive rebound
112 - 112
4:05
Quinton Ross personal foul (David Lee draws the foul)
112 - 112
3:54
JaVale McGee blocks Al Harrington's layup
112 - 112
3:53
Nick Young defensive rebound
112 - 112
3:39
Wilson Chandler blocks Andray Blatche's 3-foot jumper
112 - 112
3:36
Andray Blatche offensive rebound
112 - 112
3:28
Randy Foye misses 13-foot jumper
112 - 112
3:27
Andray Blatche offensive rebound
112 - 112
3:25
Andray Blatche misses layup
112 - 112
3:24
Al Harrington defensive rebound
112 - 112
3:12
David Lee makes 14-foot jumper (Wilson Chandler assists)
114 - 112
2:47
JaVale McGee misses jumper
114 - 112
2:47
Washington defensive rebound
114 - 112
2:47
JaVale McGee personal foul (David Lee draws the foul)
114 - 112
2:34
Eddie House misses 19-foot jumper
114 - 112
2:32
JaVale McGee defensive rebound
114 - 112
2:18
Nick Young misses three point jumper
114 - 112
2:17
Eddie House defensive rebound
114 - 112
2:05
Al Harrington misses 18-foot jumper
114 - 112
2:03
Andray Blatche defensive rebound
114 - 112
1:47
Quinton Ross offensive foul (Danilo Gallinari draws the foul)
114 - 112
1:47
Quinton Ross turnover
114 - 112
1:47
New York 20 Sec. timeout
114 - 112
1:47
Mike Harris enters the game for Quinton Ross
114 - 112
1:29
Andray Blatche shooting foul (Al Harrington draws the foul)
114 - 112
1:29
Al Harrington misses free throw 1 of 2
114 - 112
1:29
New York offensive rebound
114 - 112
1:29
Al Harrington misses free throw 2 of 2
114 - 112
1:28
Mike Harris defensive rebound
114 - 112
1:05
Randy Foye misses 16-foot jumper
114 - 112
1:04
Wilson Chandler defensive rebound
114 - 112
0:45
Al Harrington offensive foul (Nick Young draws the foul)
114 - 112
0:45
Al Harrington turnover
114 - 112
0:45
Washington full timeout
114 - 112
0:45
Shaun Livingston enters the game for Mike Harris
114 - 112
0:45
turnover
114 - 112
0:45
Mike Harris enters the game for Shaun Livingston
114 - 112
0:28
JaVale McGee blocks David Lee's 6-foot jumper
114 - 112
0:28
New York offensive rebound
114 - 112
0:28
New York 20 Sec. timeout
114 - 112
0:21
Eddie House misses 25-foot three point jumper
114 - 112
0:21
JaVale McGee defensive rebound
114 - 112
0:21
Washington 20 Sec. timeout
114 - 112
0:21
Bill Walker enters the game for Eddie House
114 - 112
0:13
David Lee shooting foul (JaVale McGee draws the foul)
114 - 112
0:13
JaVale McGee makes free throw 1 of 2
114 - 113
0:13
Eddie House enters the game for Bill Walker
114 - 113
0:13
JaVale McGee misses free throw 2 of 2
114 - 113
0:12
Washington defensive rebound
114 - 113
0:12
Mike Harris loose ball foul (Al Harrington draws the foul)
114 - 113
0:12
Al Harrington makes free throw 1 of 2
115 - 113
0:12
Al Harrington makes free throw 2 of 2
116 - 113
0:12
Washington 20 Sec. timeout
116 - 113
0:12
Earl Boykins enters the game for Mike Harris
116 - 113
0:12
Bill Walker enters the game for Eddie House
116 - 113
0:06
Nick Young makes 25-foot three point jumper (JaVale McGee assists)
116 - 116
0:06
New York full timeout
116 - 116
0:06
Eddie House enters the game for Bill Walker
116 - 116
0:06
Mike Harris enters the game for Earl Boykins
116 - 116
0:01
David Lee makes layup
118 - 116
0:00
JaVale McGee bad pass (Eddie House steals)
118 - 116
0:00
End of the 1st Overtime
118 - 116
0:00
End Game
118 - 116
The NBA is making "tremendous progress" toward avoiding any possibility of a work stoppage -- with an assist from Michael Jordan.

L.A. Clippers star Blake Griffin said Friday he feels as good as he's felt in "several years" heading into the 2016-17 regular season.

NBA commissioner Adam Silver said he hopes players will continue to stand during the playing of the national anthem, adding that the league is in a position to impact today's social climate.
Regular Season Series
NY wins series 3-1
2016-2017 Atlantic Standings
2016-2017 Southeast Standings