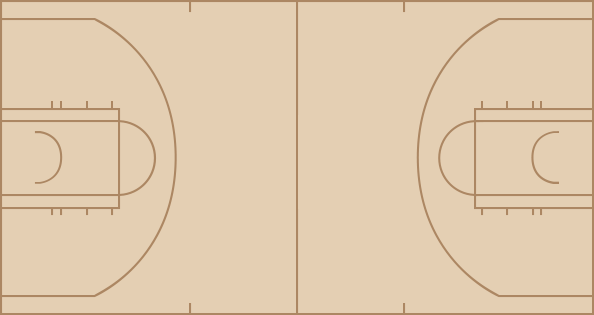 Lakers
time
TEAM
PLAY
SCORE
12:00
Start of the 1st Quarter
0 - 0
12:00
Jumpball: Andrew Bynum vs. Brendan Haywood (Pau Gasol gains possession)
0 - 0
11:41
Derek Fisher misses 25-foot three point jumper
0 - 0
11:40
Jason Kidd defensive rebound
0 - 0
11:19
Dirk Nowitzki makes jumper (Jason Kidd assists)
0 - 2
10:56
Ron Artest makes 23-foot three point jumper (Derek Fisher assists)
3 - 2
10:44
Shawn Marion lost ball (Kobe Bryant steals)
3 - 2
10:36
Andrew Bynum traveling
3 - 2
10:25
Jason Kidd makes 24-foot three point jumper (Brendan Haywood assists)
3 - 5
10:03
Derek Fisher makes 23-foot three point jumper
6 - 5
9:51
DeShawn Stevenson misses 24-foot three point jumper
6 - 5
9:49
Andrew Bynum defensive rebound
6 - 5
9:41
Ron Artest misses driving layup
6 - 5
9:38
Shawn Marion defensive rebound
6 - 5
9:33
Brendan Haywood makes two point shot (Shawn Marion assists)
6 - 7
9:07
Pau Gasol makes 14-foot jumper
8 - 7
8:48
Shawn Marion offensive foul (Ron Artest draws the foul)
8 - 7
8:48
Shawn Marion turnover
8 - 7
8:30
Andrew Bynum 3 second
8 - 7
8:10
Brendan Haywood makes 5-foot two point shot
8 - 9
7:54
Kobe Bryant misses 13-foot two point shot
8 - 9
7:54
Dirk Nowitzki defensive rebound
8 - 9
7:41
Jason Kidd misses 25-foot three point jumper
8 - 9
7:39
Andrew Bynum defensive rebound
8 - 9
7:28
Ron Artest makes 5-foot two point shot (Derek Fisher assists)
10 - 9
7:09
Andrew Bynum shooting foul (DeShawn Stevenson draws the foul)
10 - 9
7:09
DeShawn Stevenson misses free throw 1 of 2
10 - 9
7:09
Dallas offensive rebound
10 - 9
7:09
DeShawn Stevenson makes free throw 2 of 2
10 - 10
6:47
DeShawn Stevenson personal foul (Kobe Bryant draws the foul)
10 - 10
6:35
Pau Gasol misses 6-foot two point shot
10 - 10
6:33
Andrew Bynum offensive rebound
10 - 10
6:33
Andrew Bynum makes 4-foot jumper
12 - 10
6:05
Jason Kidd misses 28-foot three point jumper
12 - 10
6:05
Dallas offensive rebound
12 - 10
6:05
shot clock violation
12 - 10
5:52
Derek Fisher misses 11-foot jumper
12 - 10
5:50
Dirk Nowitzki defensive rebound
12 - 10
5:46
DeShawn Stevenson makes driving layup (Jason Kidd assists)
12 - 12
5:24
Andrew Bynum makes 5-foot hook shot (Derek Fisher assists)
14 - 12
5:11
DeShawn Stevenson misses driving layup
14 - 12
5:11
DeShawn Stevenson offensive rebound
14 - 12
5:11
Dallas full timeout
14 - 12
5:03
Dirk Nowitzki misses 20-foot two point shot
14 - 12
5:01
Andrew Bynum defensive rebound
14 - 12
4:39
Kobe Bryant misses 14-foot two point shot
14 - 12
4:37
Brendan Haywood defensive rebound
14 - 12
4:33
Shawn Marion makes driving layup (Jason Kidd assists)
14 - 14
4:03
Andrew Bynum makes 6-foot two point shot
16 - 14
3:40
Dirk Nowitzki makes 19-foot jumper (Brendan Haywood assists)
16 - 16
3:18
Derek Fisher misses 22-foot three point jumper
16 - 16
3:17
Brendan Haywood defensive rebound
16 - 16
3:09
DeShawn Stevenson misses 24-foot three point jumper
16 - 16
3:08
Jason Kidd offensive rebound
16 - 16
3:06
Derek Fisher loose ball foul (Jason Kidd draws the foul)
16 - 16
3:06
Lamar Odom enters the game for Pau Gasol
16 - 16
3:06
Jason Terry enters the game for Shawn Marion
16 - 16
3:06
Los Angeles full timeout
16 - 16
3:06
Shawn Marion enters the game for Dirk Nowitzki
16 - 16
3:06
Jordan Farmar enters the game for Ron Artest
16 - 16
3:06
Shannon Brown enters the game for Derek Fisher
16 - 16
2:51
Jason Terry makes 20-foot jumper (Jason Kidd assists)
16 - 18
2:41
Kobe Bryant misses 13-foot two point shot
16 - 18
2:38
Shawn Marion defensive rebound
16 - 18
2:30
Jason Terry misses two point shot
16 - 18
2:28
Andrew Bynum defensive rebound
16 - 18
2:14
Kobe Bryant misses 18-foot jumper
16 - 18
2:13
Jason Kidd defensive rebound
16 - 18
1:54
Brendan Haywood misses layup
16 - 18
1:54
Lamar Odom defensive rebound
16 - 18
1:47
Lamar Odom makes driving layup
18 - 18
1:39
Jason Terry makes driving layup
18 - 20
1:10
Kobe Bryant misses jumper
18 - 20
1:09
Andrew Bynum offensive rebound
18 - 20
1:08
Andrew Bynum makes dunk
20 - 20
0:48
Jason Terry bad pass (Shannon Brown steals)
20 - 20
0:44
Jordan Farmar makes driving layup
22 - 20
0:44
Jason Kidd shooting foul (Jordan Farmar draws the foul)
22 - 20
0:44
Jordan Farmar makes free throw 1 of 1
23 - 20
0:31
Jason Kidd misses driving layup
23 - 20
0:29
Andrew Bynum defensive rebound
23 - 20
0:10
Lamar Odom misses two point shot
23 - 20
0:07
Brendan Haywood defensive rebound
23 - 20
0:00
Jason Kidd misses 26-foot three point jumper
23 - 20
0:00
Dallas offensive rebound
23 - 20
0:00
End of the 1st Quarter
23 - 20

time
TEAM
PLAY
SCORE
12:00
Start of the 2nd Quarter
23 - 20
11:42
Dirk Nowitzki makes 10-foot two point shot
23 - 22
11:33
Ron Artest bad pass
23 - 22
11:21
Jason Terry makes driving layup
23 - 24
11:21
Jordan Farmar shooting foul (Jason Terry draws the foul)
23 - 24
11:21
Los Angeles full timeout
23 - 24
11:21
Jason Terry makes free throw 1 of 1
23 - 25
11:02
Lamar Odom makes 26-foot three point jumper (Shannon Brown assists)
26 - 25
10:47
Jason Terry makes driving layup
26 - 27
10:37
Ron Artest makes driving layup
28 - 27
10:19
Jason Terry bad pass (Shannon Brown steals)
28 - 27
10:11
Lamar Odom makes driving layup (Pau Gasol assists)
30 - 27
10:00
Rodrigue Beaubois lost ball (Lamar Odom steals)
30 - 27
9:59
Lamar Odom lost ball (Rodrigue Beaubois steals)
30 - 27
9:59
Jumpball: Jordan Farmar vs. Rodrigue Beaubois (Pau Gasol gains possession)
30 - 27
9:59
Rodrigue Beaubois lost ball (Jordan Farmar steals)
30 - 27
9:49
Rodrigue Beaubois blocks Jordan Farmar's driving layup
30 - 27
9:49
Los Angeles offensive rebound
30 - 27
9:45
Jordan Farmar makes driving layup (Lamar Odom assists)
32 - 27
9:27
Jason Terry makes 23-foot three point jumper (Eduardo Najera assists)
32 - 30
9:15
Dirk Nowitzki personal foul (Pau Gasol draws the foul)
32 - 30
9:10
Ron Artest makes driving layup (Pau Gasol assists)
34 - 30
8:56
Jason Terry misses 24-foot three point jumper
34 - 30
8:55
Pau Gasol defensive rebound
34 - 30
8:47
Jordan Farmar bad pass (Rodrigue Beaubois steals)
34 - 30
8:41
Dirk Nowitzki makes 17-foot jumper (Jason Terry assists)
34 - 32
8:21
Jordan Farmar misses 13-foot running jumper
34 - 32
8:21
Dirk Nowitzki defensive rebound
34 - 32
8:15
Shawn Marion misses driving layup
34 - 32
8:15
Shannon Brown defensive rebound
34 - 32
8:10
Pau Gasol makes layup (Shannon Brown assists)
36 - 32
8:00
Dallas full timeout
36 - 32
8:00
DeShawn Stevenson enters the game for Shawn Marion
36 - 32
7:50
Pau Gasol shooting foul (Dirk Nowitzki draws the foul)
36 - 32
7:50
Dirk Nowitzki makes free throw 1 of 2
36 - 33
7:50
Dirk Nowitzki makes free throw 2 of 2
36 - 34
7:37
Pau Gasol misses 7-foot two point shot
36 - 34
7:33
Dirk Nowitzki defensive rebound
36 - 34
7:30
Rodrigue Beaubois bad pass
36 - 34
7:24
Jose Juan Barea enters the game for Rodrigue Beaubois
36 - 34
7:16
Eduardo Najera personal foul (Pau Gasol draws the foul)
36 - 34
7:07
Lamar Odom makes 14-foot jumper
38 - 34
6:50
Jose Juan Barea misses 23-foot three point jumper
38 - 34
6:48
Dirk Nowitzki offensive rebound
38 - 34
6:48
Dallas 20 Sec. timeout
38 - 34
6:48
Brendan Haywood enters the game for Eduardo Najera
38 - 34
6:31
Dirk Nowitzki misses 20-foot jumper
38 - 34
6:30
Jose Juan Barea offensive rebound
38 - 34
6:26
Dirk Nowitzki misses 17-foot jumper
38 - 34
6:24
Jason Terry offensive rebound
38 - 34
6:20
Jason Terry makes 25-foot three point jumper (DeShawn Stevenson assists)
38 - 37
6:09
Shannon Brown misses 26-foot three point jumper
38 - 37
6:09
Jose Juan Barea defensive rebound
38 - 37
6:03
Jason Terry misses 25-foot three point jumper
38 - 37
6:01
Shannon Brown defensive rebound
38 - 37
6:01
Shannon Brown bad pass (Jose Juan Barea steals)
38 - 37
6:01
Pau Gasol loose ball foul (Jose Juan Barea draws the foul)
38 - 37
6:01
Jason Kidd enters the game for DeShawn Stevenson
38 - 37
6:01
Kobe Bryant enters the game for Pau Gasol
38 - 37
6:01
Derek Fisher enters the game for Shannon Brown
38 - 37
6:01
Andrew Bynum enters the game for Jordan Farmar
38 - 37
5:48
Jose Juan Barea makes 14-foot two point shot
38 - 39
5:31
Derek Fisher makes 5-foot two point shot
40 - 39
5:11
Dirk Nowitzki bad pass (Lamar Odom steals)
40 - 39
5:05
Ron Artest makes two point shot (Lamar Odom assists)
42 - 39
4:43
Jose Juan Barea misses 5-foot jumper
42 - 39
4:43
Andrew Bynum defensive rebound
42 - 39
4:28
Brendan Haywood blocks Andrew Bynum's 6-foot jumper
42 - 39
4:26
Dirk Nowitzki defensive rebound
42 - 39
4:24
Jose Juan Barea misses driving layup
42 - 39
4:22
Lamar Odom defensive rebound
42 - 39
4:11
Jason Terry personal foul (Lamar Odom draws the foul)
42 - 39
4:11
Shawn Marion enters the game for Jose Juan Barea
42 - 39
3:59
Lamar Odom makes 12-foot two point shot
44 - 39
3:43
Lamar Odom personal foul (Dirk Nowitzki draws the foul)
44 - 39
3:32
Jason Terry misses 13-foot jumper
44 - 39
3:31
Ron Artest defensive rebound
44 - 39
3:25
Kobe Bryant makes 13-foot jumper
46 - 39
3:12
Jason Kidd misses 24-foot three point jumper
46 - 39
3:11
Shawn Marion offensive rebound
46 - 39
3:10
Shawn Marion misses layup
46 - 39
3:09
Andrew Bynum defensive rebound
46 - 39
2:58
Kobe Bryant makes 12-foot jumper
48 - 39
2:40
Jason Terry misses 24-foot three point jumper
48 - 39
2:39
Brendan Haywood offensive rebound
48 - 39
2:34
Andrew Bynum blocks Brendan Haywood's two point shot
48 - 39
2:31
Lamar Odom defensive rebound
48 - 39
2:27
Kobe Bryant misses 24-foot three point jumper
48 - 39
2:25
Brendan Haywood defensive rebound
48 - 39
2:15
Dirk Nowitzki makes 11-foot jumper
48 - 41
1:59
Los Angeles 20 Sec. timeout
48 - 41
1:59
Official timeout
48 - 41
1:51
Lamar Odom misses 13-foot jumper
48 - 41
1:51
Jason Terry defensive rebound
48 - 41
1:45
Brendan Haywood makes slam dunk (Jason Kidd assists)
48 - 43
1:27
Kobe Bryant makes driving layup
50 - 43
1:01
Jason Kidd makes 24-foot three point jumper (Dirk Nowitzki assists)
50 - 46
0:44
Brendan Haywood blocks Kobe Bryant's driving layup
50 - 46
0:42
Jason Terry defensive rebound
50 - 46
0:37
Dirk Nowitzki misses 17-foot jumper
50 - 46
0:36
Jason Kidd offensive rebound
50 - 46
0:33
Kobe Bryant shooting foul (Jason Terry draws the foul)
50 - 46
0:33
Jason Terry makes free throw 1 of 3
50 - 47
0:33
Jason Terry makes free throw 2 of 3
50 - 48
0:33
Jason Terry makes free throw 3 of 3
50 - 49
0:23
Derek Fisher misses 22-foot jumper
50 - 49
0:23
Shawn Marion defensive rebound
50 - 49
0:21
Shawn Marion lost ball (Kobe Bryant steals)
50 - 49
0:19
Kobe Bryant misses layup
50 - 49
0:19
Los Angeles offensive rebound
50 - 49
0:19
DeShawn Stevenson enters the game for Jason Terry
50 - 49
0:03
Brendan Haywood blocks Ron Artest's 22-foot three point jumper
50 - 49
0:00
Shawn Marion defensive rebound
50 - 49
0:00
End of the 2nd Quarter
50 - 49

time
TEAM
PLAY
SCORE
12:00
Start of the 3rd Quarter
50 - 49
11:44
Dirk Nowitzki makes 15-foot jumper (Jason Kidd assists)
50 - 51
11:26
Kobe Bryant misses 16-foot jumper
50 - 51
11:25
Dirk Nowitzki defensive rebound
50 - 51
11:18
Shawn Marion makes dunk (Jason Kidd assists)
50 - 53
11:02
Derek Fisher misses 24-foot three point jumper
50 - 53
11:00
Shawn Marion defensive rebound
50 - 53
10:38
Brendan Haywood makes 6-foot two point shot
50 - 55
10:12
Andrew Bynum misses 13-foot jumper
50 - 55
10:11
Dirk Nowitzki defensive rebound
50 - 55
10:06
Jason Kidd misses 23-foot jumper
50 - 55
10:06
Kobe Bryant defensive rebound
50 - 55
9:55
Brendan Haywood blocks Kobe Bryant's 9-foot two point shot
50 - 55
9:55
Los Angeles offensive rebound
50 - 55
9:48
Derek Fisher makes 25-foot three point jumper (Kobe Bryant assists)
53 - 55
9:26
Dirk Nowitzki makes driving layup (Jason Kidd assists)
53 - 57
9:00
Derek Fisher misses 14-foot jumper
53 - 57
8:59
Brendan Haywood defensive rebound
53 - 57
8:53
Jason Kidd bad pass (Andrew Bynum steals)
53 - 57
8:45
Kobe Bryant makes 15-foot two point shot (Ron Artest assists)
55 - 57
8:25
Derek Fisher personal foul (Jason Kidd draws the foul)
55 - 57
8:11
Jason Kidd makes 24-foot three point jumper (Shawn Marion assists)
55 - 60
7:54
Kobe Bryant makes 20-foot jumper (Derek Fisher assists)
57 - 60
7:33
Andrew Bynum blocks Shawn Marion's 6-foot jumper
57 - 60
7:31
Derek Fisher defensive rebound
57 - 60
7:16
Derek Fisher misses 23-foot jumper
57 - 60
7:16
DeShawn Stevenson defensive rebound
57 - 60
7:07
Jason Kidd bad pass (Ron Artest steals)
57 - 60
7:05
DeShawn Stevenson clear path foul (Derek Fisher draws the foul)
57 - 60
7:05
Derek Fisher makes free throw
58 - 60
7:05
Derek Fisher makes free throw
59 - 60
7:01
DeShawn Stevenson personal foul (Derek Fisher draws the foul)
59 - 60
6:52
Kobe Bryant makes 10-foot two point shot (Andrew Bynum assists)
61 - 60
6:39
Kobe Bryant shooting foul (Dirk Nowitzki draws the foul)
61 - 60
6:39
Dirk Nowitzki makes free throw 1 of 2
61 - 61
6:39
Lamar Odom enters the game for Pau Gasol
61 - 61
6:39
Jason Terry enters the game for DeShawn Stevenson
61 - 61
6:39
Dirk Nowitzki makes free throw 2 of 2
61 - 62
6:22
Derek Fisher bad pass
61 - 62
6:13
Shawn Marion makes layup
61 - 64
5:54
Kobe Bryant makes 20-foot jumper
63 - 64
5:33
Dirk Nowitzki misses 15-foot two point shot
63 - 64
5:30
Brendan Haywood offensive rebound
63 - 64
5:26
Shawn Marion makes layup (Jason Kidd assists)
63 - 66
5:26
Ron Artest shooting foul (Shawn Marion draws the foul)
63 - 66
5:26
Dallas full timeout
63 - 66
5:26
Pau Gasol enters the game for Andrew Bynum
63 - 66
5:26
Shawn Marion misses free throw 1 of 1
63 - 66
5:26
Lamar Odom defensive rebound
63 - 66
5:09
Pau Gasol makes driving dunk (Derek Fisher assists)
65 - 66
4:54
Eduardo Najera enters the game for Brendan Haywood
65 - 66
4:41
Dirk Nowitzki misses 12-foot two point shot
65 - 66
4:41
Shawn Marion offensive rebound
65 - 66
4:37
Jumpball: Ron Artest vs. Shawn Marion (Derek Fisher gains possession)
65 - 66
4:37
Shawn Marion lost ball (Ron Artest steals)
65 - 66
4:30
Derek Fisher bad pass (Jason Terry steals)
65 - 66
4:13
Shawn Marion misses 8-foot two point shot
65 - 66
4:11
Eduardo Najera offensive rebound
65 - 66
4:05
Jason Terry misses 9-foot jumper
65 - 66
4:03
Pau Gasol defensive rebound
65 - 66
3:53
Lamar Odom misses 9-foot two point shot
65 - 66
3:51
Pau Gasol offensive rebound
65 - 66
3:51
Eduardo Najera personal foul (Pau Gasol draws the foul)
65 - 66
3:44
Jason Kidd shooting foul (Ron Artest draws the foul)
65 - 66
3:44
Ron Artest makes free throw 1 of 2
66 - 66
3:44
Ron Artest makes free throw 2 of 2
67 - 66
3:25
Jason Kidd misses 20-foot jumper
67 - 66
3:25
Pau Gasol defensive rebound
67 - 66
3:10
Pau Gasol misses 4-foot jumper
67 - 66
3:09
Dirk Nowitzki defensive rebound
67 - 66
3:00
Jason Terry makes 25-foot three point jumper (Jason Kidd assists)
67 - 69
2:47
Eduardo Najera personal foul (Pau Gasol draws the foul)
67 - 69
2:47
Los Angeles full timeout
67 - 69
2:47
Pau Gasol misses free throw 1 of 2
67 - 69
2:47
Los Angeles offensive rebound
67 - 69
2:47
Pau Gasol makes free throw 2 of 2
68 - 69
2:31
Shawn Marion turnover
68 - 69
2:16
Pau Gasol makes layup (Lamar Odom assists)
70 - 69
1:54
Jason Terry misses 18-foot jumper
70 - 69
1:53
Ron Artest defensive rebound
70 - 69
1:40
Kobe Bryant bad pass (Shawn Marion steals)
70 - 69
1:38
Shawn Marion makes driving layup (Jason Terry assists)
70 - 71
1:21
Lamar Odom 3 second
70 - 71
1:21
Jordan Farmar enters the game for Derek Fisher
70 - 71
1:21
Shannon Brown enters the game for Ron Artest
70 - 71
1:08
Jason Terry bad pass
70 - 71
1:08
Brendan Haywood enters the game for Dirk Nowitzki
70 - 71
0:54
Shannon Brown makes driving layup (Pau Gasol assists)
72 - 71
0:36
Eduardo Najera misses jumper
72 - 71
0:35
Kobe Bryant defensive rebound
72 - 71
0:27
Kobe Bryant bad pass (Eduardo Najera steals)
72 - 71
0:21
Eduardo Najera misses driving layup
72 - 71
0:20
Dallas offensive rebound
72 - 71
0:20
Dirk Nowitzki enters the game for Eduardo Najera
72 - 71
0:03
Jordan Farmar personal foul (Dirk Nowitzki draws the foul)
72 - 71
0:00
Jason Kidd makes 29-foot three point jumper (Jason Terry assists)
72 - 74
0:00
End of the 3rd Quarter
72 - 74

time
TEAM
PLAY
SCORE
12:00
Start of the 4th Quarter
72 - 74
11:49
Shannon Brown lost ball (Jason Kidd steals)
72 - 74
11:41
DeShawn Stevenson misses 23-foot three point jumper
72 - 74
11:41
Lamar Odom defensive rebound
72 - 74
11:29
Brendan Haywood blocks Andrew Bynum's 6-foot two point shot
72 - 74
11:26
Ron Artest offensive rebound
72 - 74
11:18
Andrew Bynum lost ball (DeShawn Stevenson steals)
72 - 74
11:17
Shannon Brown shooting foul (Jason Kidd draws the foul)
72 - 74
11:17
Jason Kidd makes free throw 1 of 2
72 - 75
11:17
Jason Kidd makes free throw 2 of 2
72 - 76
11:06
Shawn Marion shooting foul (Shannon Brown draws the foul)
72 - 76
11:06
Shannon Brown makes free throw 1 of 2
73 - 76
11:06
Shannon Brown makes free throw 2 of 2
74 - 76
10:49
Shawn Marion misses 8-foot two point shot
74 - 76
10:48
Dallas offensive rebound
74 - 76
10:45
Andrew Bynum shooting foul (Brendan Haywood draws the foul)
74 - 76
10:45
Brendan Haywood makes free throw 1 of 2
74 - 77
10:45
Brendan Haywood makes free throw 2 of 2
74 - 78
10:26
DeShawn Stevenson personal foul (Ron Artest draws the foul)
74 - 78
10:19
Lamar Odom bad pass
74 - 78
10:00
Jason Terry misses 20-foot jumper
74 - 78
9:57
Lamar Odom defensive rebound
74 - 78
9:52
Lamar Odom makes driving layup
76 - 78
9:41
Jordan Farmar personal foul (Jason Terry draws the foul)
76 - 78
9:41
Dirk Nowitzki enters the game for Shawn Marion
76 - 78
9:41
Jose Juan Barea enters the game for Jason Kidd
76 - 78
9:41
Derek Fisher enters the game for Jordan Farmar
76 - 78
9:41
Kobe Bryant enters the game for Ron Artest
76 - 78
9:37
Brendan Haywood offensive foul (Derek Fisher draws the foul)
76 - 78
9:37
Brendan Haywood turnover
76 - 78
9:25
Kobe Bryant misses 10-foot jumper
76 - 78
9:22
DeShawn Stevenson defensive rebound
76 - 78
9:11
Lamar Odom shooting foul (Dirk Nowitzki draws the foul)
76 - 78
9:11
Dirk Nowitzki makes free throw 1 of 2
76 - 79
9:11
Dirk Nowitzki makes free throw 2 of 2
76 - 80
8:52
Andrew Bynum makes 8-foot two point shot (Lamar Odom assists)
78 - 80
8:37
Jason Terry misses 16-foot jumper
78 - 80
8:37
Dallas offensive rebound
78 - 80
8:37
Official timeout
78 - 80
8:26
Jose Juan Barea misses 17-foot jumper
78 - 80
8:25
Andrew Bynum defensive rebound
78 - 80
8:03
Andrew Bynum traveling
78 - 80
8:03
Ron Artest enters the game for Shannon Brown
78 - 80
7:54
Lamar Odom personal foul (Dirk Nowitzki draws the foul)
78 - 80
7:54
Dirk Nowitzki makes free throw 1 of 2
78 - 81
7:54
Pau Gasol enters the game for Andrew Bynum
78 - 81
7:54
Jason Kidd enters the game for Jose Juan Barea
78 - 81
7:54
Shawn Marion enters the game for DeShawn Stevenson
78 - 81
7:54
Dirk Nowitzki makes free throw 2 of 2
78 - 82
7:35
Ron Artest misses 25-foot three point jumper
78 - 82
7:33
Pau Gasol offensive rebound
78 - 82
7:31
Pau Gasol bad pass (Brendan Haywood steals)
78 - 82
7:22
Jason Kidd misses 25-foot three point jumper
78 - 82
7:22
Ron Artest defensive rebound
78 - 82
7:05
Pau Gasol makes 15-foot jumper
80 - 82
6:39
Dirk Nowitzki makes 13-foot two point shot
80 - 84
6:26
Jason Kidd personal foul (Ron Artest draws the foul)
80 - 84
6:16
Dirk Nowitzki shooting foul (Lamar Odom draws the foul)
80 - 84
6:16
Lamar Odom makes free throw 1 of 2
81 - 84
6:16
Lamar Odom makes free throw 2 of 2
82 - 84
6:01
Dirk Nowitzki misses 15-foot jumper
82 - 84
6:01
Brendan Haywood offensive rebound
82 - 84
5:52
Dirk Nowitzki makes 13-foot two point shot (Jason Kidd assists)
82 - 86
5:52
Kobe Bryant shooting foul (Dirk Nowitzki draws the foul)
82 - 86
5:52
Dallas full timeout
82 - 86
5:52
Dirk Nowitzki makes free throw 1 of 1
82 - 87
5:37
Brendan Haywood personal foul (Derek Fisher draws the foul)
82 - 87
5:37
Derek Fisher makes free throw 1 of 2
83 - 87
5:37
Derek Fisher makes free throw 2 of 2
84 - 87
5:20
Jason Terry makes 24-foot three point jumper
84 - 90
5:00
Derek Fisher misses 25-foot three point jumper
84 - 90
4:58
Lamar Odom offensive rebound
84 - 90
4:52
Kobe Bryant makes 8-foot two point shot (Lamar Odom assists)
86 - 90
4:33
Dirk Nowitzki misses 20-foot jumper
86 - 90
4:31
Kobe Bryant defensive rebound
86 - 90
4:16
Pau Gasol misses 12-foot jumper
86 - 90
4:15
Jason Kidd defensive rebound
86 - 90
4:03
Dirk Nowitzki misses 15-foot jumper
86 - 90
4:01
Pau Gasol defensive rebound
86 - 90
3:36
Kobe Bryant misses 26-foot three point jumper
86 - 90
3:36
Jason Kidd defensive rebound
86 - 90
3:17
Dirk Nowitzki makes 17-foot jumper
86 - 92
2:50
Kobe Bryant misses 13-foot jumper
86 - 92
2:49
Jason Kidd defensive rebound
86 - 92
2:39
Jason Terry misses 24-foot three point jumper
86 - 92
2:39
Brendan Haywood offensive rebound
86 - 92
2:39
Derek Fisher shooting foul (Brendan Haywood draws the foul)
86 - 92
2:39
Los Angeles full timeout
86 - 92
2:39
Andrew Bynum enters the game for Pau Gasol
86 - 92
2:39
Brendan Haywood makes free throw 1 of 2
86 - 93
2:39
Brendan Haywood misses free throw 2 of 2
86 - 93
2:38
Andrew Bynum defensive rebound
86 - 93
2:24
Andrew Bynum lost ball (Dirk Nowitzki steals)
86 - 93
2:19
Jason Terry makes driving layup (Jason Kidd assists)
86 - 95
2:00
Derek Fisher misses 27-foot three point jumper
86 - 95
2:00
Kobe Bryant offensive rebound
86 - 95
1:55
Lamar Odom makes driving layup
88 - 95
1:55
Brendan Haywood shooting foul (Lamar Odom draws the foul)
88 - 95
1:55
Pau Gasol enters the game for Andrew Bynum
88 - 95
1:55
Lamar Odom makes free throw 1 of 1
89 - 95
1:40
Jason Terry makes 21-foot jumper (Jason Kidd assists)
89 - 97
1:31
Lamar Odom makes 23-foot three point jumper (Kobe Bryant assists)
92 - 97
1:13
Jason Terry offensive foul (Derek Fisher draws the foul)
92 - 97
1:13
Jason Terry turnover
92 - 97
0:57
Kobe Bryant makes driving layup
94 - 97
0:57
Dallas full timeout
94 - 97
0:34
Shawn Marion misses 4-foot two point shot
94 - 97
0:30
Kobe Bryant defensive rebound
94 - 97
0:25
Kobe Bryant misses 25-foot three point jumper
94 - 97
0:23
Los Angeles defensive rebound
94 - 97
0:15
Pau Gasol personal foul (Jason Terry draws the foul)
94 - 97
0:15
Jason Terry makes free throw 1 of 2
94 - 98
0:15
Jason Terry makes free throw 2 of 2
94 - 99
0:15
Los Angeles 20 Sec. timeout
94 - 99
0:09
Shawn Marion shooting foul (Kobe Bryant draws the foul)
94 - 99
0:09
Kobe Bryant makes free throw 1 of 2
95 - 99
0:09
Shannon Brown enters the game for Ron Artest
95 - 99
0:09
Kobe Bryant makes free throw 2 of 2
96 - 99
0:01
Kobe Bryant personal foul (Dirk Nowitzki draws the foul)
96 - 99
0:01
Dirk Nowitzki makes free throw 1 of 2
96 - 100
0:01
Dirk Nowitzki makes free throw 2 of 2
96 - 101
0:00
Derek Fisher misses 39-foot three point running jumper
96 - 101
0:00
Los Angeles offensive rebound
96 - 101
0:00
End of the 4th Quarter
96 - 101
0:00
End Game
96 - 101
Mike Conley's $152 million deal is currently the richest in NBA history, but expect to see a $200 million contract soon, likely for Russell Westbrook, James Harden or DeAndre Jordan.

Ayesha Curry served as the grand marshal at the GoPro Grand Prix of Sonoma Verizon IndyCar Series season finale Sunday.

NBA shooting coach David Nurse breaks the world record by making 20 3-pointers in one minute with one ball.
Regular Season Series
Series tied 2-2
2015-2016 Pacific Standings
2015-2016 Southwest Standings