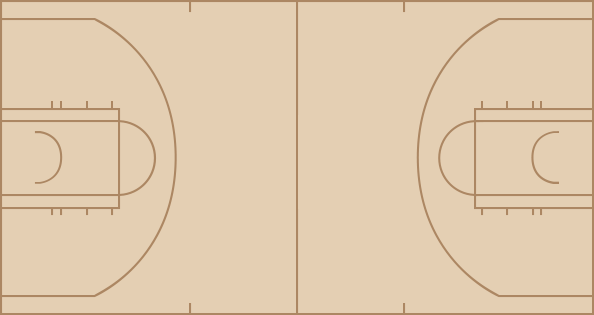 Warriors
time
TEAM
PLAY
SCORE
12:00
Start of the 1st Quarter
0 - 0
12:00
Jumpball: Andris Biedrins vs. Dirk Nowitzki (Shawn Marion gains possession)
0 - 0
11:44
Dirk Nowitzki makes 16-foot jumper (Jason Kidd assists)
0 - 2
11:25
Ronny Turiaf misses 9-foot jumper
0 - 2
11:23
Jason Kidd defensive rebound
0 - 2
11:19
Shawn Marion makes slam dunk (Jason Terry assists)
0 - 4
11:07
Andris Biedrins makes layup (Stephen Curry assists)
2 - 4
10:49
Jason Terry misses 11-foot two point shot
2 - 4
10:48
Andris Biedrins defensive rebound
2 - 4
10:47
Andris Biedrins bad pass (Jason Kidd steals)
2 - 4
10:40
Shawn Marion makes 6-foot two point shot (Jason Kidd assists)
2 - 6
10:26
Eduardo Najera personal foul (Ronny Turiaf draws the foul)
2 - 6
10:18
Monta Ellis makes 25-foot three point jumper (Andris Biedrins assists)
5 - 6
10:02
Shawn Marion makes layup (Jason Kidd assists)
5 - 8
9:45
Corey Maggette misses 22-foot jumper
5 - 8
9:45
Jason Kidd defensive rebound
5 - 8
9:33
Jason Terry misses 19-foot jumper
5 - 8
9:33
Corey Maggette defensive rebound
5 - 8
9:19
Andris Biedrins misses 4-foot two point shot
5 - 8
9:19
Dirk Nowitzki defensive rebound
5 - 8
9:07
Monta Ellis blocks Dirk Nowitzki's 13-foot jumper
5 - 8
9:06
Monta Ellis defensive rebound
5 - 8
9:02
Monta Ellis makes driving layup
7 - 8
8:48
Shawn Marion misses 4-foot two point shot
7 - 8
8:47
Andris Biedrins defensive rebound
7 - 8
8:33
Eduardo Najera personal foul (Ronny Turiaf draws the foul)
7 - 8
8:25
Stephen Curry misses 19-foot jumper
7 - 8
8:23
Monta Ellis offensive rebound
7 - 8
8:22
Ronny Turiaf traveling
7 - 8
8:04
Dirk Nowitzki misses 18-foot jumper
7 - 8
8:03
Andris Biedrins defensive rebound
7 - 8
7:50
Corey Maggette turnover
7 - 8
7:41
Jason Terry makes 7-foot two point shot
7 - 10
7:41
Stephen Curry shooting foul (Jason Terry draws the foul)
7 - 10
7:41
Jason Terry makes free throw 1 of 1
7 - 11
7:22
Corey Maggette misses 21-foot jumper
7 - 11
7:22
Eduardo Najera defensive rebound
7 - 11
7:05
Jason Kidd misses 9-foot two point shot
7 - 11
7:05
Ronny Turiaf defensive rebound
7 - 11
6:58
Stephen Curry misses 19-foot two point shot
7 - 11
6:58
Shawn Marion defensive rebound
7 - 11
6:43
Dirk Nowitzki misses 16-foot jumper
7 - 11
6:41
Andris Biedrins defensive rebound
7 - 11
6:35
Stephen Curry lost ball (Jason Kidd steals)
7 - 11
6:28
Jason Terry bad pass (Monta Ellis steals)
7 - 11
6:20
Monta Ellis misses 21-foot two point shot
7 - 11
6:20
Corey Maggette offensive rebound
7 - 11
6:15
Eduardo Najera shooting foul (Corey Maggette draws the foul)
7 - 11
6:15
Dallas full timeout
7 - 11
6:15
Drew Gooden enters the game for Eduardo Najera
7 - 11
6:15
Corey Maggette makes free throw 1 of 2
8 - 11
6:15
Corey Maggette makes free throw 2 of 2
9 - 11
5:52
Drew Gooden makes 16-foot jumper
9 - 13
5:31
Monta Ellis makes 20-foot jumper (Stephen Curry assists)
11 - 13
5:16
Dirk Nowitzki makes 17-foot jumper (Jason Kidd assists)
11 - 15
5:16
Ronny Turiaf shooting foul (Dirk Nowitzki draws the foul)
11 - 15
5:16
Dirk Nowitzki makes free throw 1 of 1
11 - 16
4:56
Andris Biedrins makes 8-foot two point shot (Corey Maggette assists)
13 - 16
4:35
Jason Kidd misses 25-foot three point jumper
13 - 16
4:33
Ronny Turiaf defensive rebound
13 - 16
4:24
Monta Ellis makes 18-foot two point shot
15 - 16
4:09
Andris Biedrins shooting foul (Jason Terry draws the foul)
15 - 16
4:09
Josh Howard enters the game for Dirk Nowitzki
15 - 16
4:09
Jason Terry misses free throw 1 of 2
15 - 16
4:09
Dallas offensive rebound
15 - 16
4:09
Jason Terry makes free throw 2 of 2
15 - 17
4:03
Stephen Curry bad pass
15 - 17
4:03
Rodrigue Beaubois enters the game for Jason Terry
15 - 17
3:48
Shawn Marion makes layup (Josh Howard assists)
15 - 19
3:32
Corey Maggette misses 5-foot two point shot
15 - 19
3:31
Shawn Marion defensive rebound
15 - 19
3:20
Josh Howard makes 17-foot two point shot
15 - 21
3:05
Drew Gooden shooting foul (Stephen Curry draws the foul)
15 - 21
3:05
Stephen Curry makes free throw 1 of 2
16 - 21
3:05
Coby Karl enters the game for Ronny Turiaf
16 - 21
3:05
Stephen Curry makes free throw 2 of 2
17 - 21
2:47
Josh Howard misses 20-foot jumper
17 - 21
2:46
Drew Gooden offensive rebound
17 - 21
2:44
Andris Biedrins shooting foul (Drew Gooden draws the foul)
17 - 21
2:44
Golden State full timeout
17 - 21
2:44
Drew Gooden makes free throw 1 of 2
17 - 22
2:44
Drew Gooden makes free throw 2 of 2
17 - 23
2:20
Corey Maggette misses two point shot
17 - 23
2:19
Shawn Marion defensive rebound
17 - 23
2:14
Drew Gooden makes 18-foot jumper (Jason Kidd assists)
17 - 25
2:00
Stephen Curry misses 26-foot three point jumper
17 - 25
2:00
Rodrigue Beaubois defensive rebound
17 - 25
1:44
Josh Howard makes 20-foot jumper (Jason Kidd assists)
17 - 27
1:31
Rodrigue Beaubois shooting foul (Monta Ellis draws the foul)
17 - 27
1:31
Monta Ellis misses free throw 1 of 2
17 - 27
1:31
Golden State offensive rebound
17 - 27
1:31
Chris Hunter enters the game for Andris Biedrins
17 - 27
1:31
C.J. Watson enters the game for Stephen Curry
17 - 27
1:31
Jose Juan Barea enters the game for Jason Kidd
17 - 27
1:31
Monta Ellis makes free throw 2 of 2
18 - 27
1:15
Chris Hunter shooting foul (Drew Gooden draws the foul)
18 - 27
1:15
Drew Gooden makes free throw 1 of 2
18 - 28
1:15
Drew Gooden makes free throw 2 of 2
18 - 29
1:01
Corey Maggette misses 17-foot jumper
18 - 29
1:00
Chris Hunter offensive rebound
20 - 29
1:00
Chris Hunter makes two point shot
20 - 29
0:49
Josh Howard misses 24-foot three point jumper
20 - 29
0:48
Dallas defensive rebound
20 - 29
0:39
C.J. Watson misses 24-foot three point jumper
20 - 29
0:38
Chris Hunter offensive rebound
20 - 29
0:34
Monta Ellis misses 25-foot three point jumper
20 - 29
0:33
Shawn Marion defensive rebound
20 - 29
0:19
Josh Howard makes 25-foot three point jumper (Drew Gooden assists)
20 - 32
0:02
Rodrigue Beaubois personal foul (Monta Ellis draws the foul)
20 - 32
0:02
Monta Ellis misses free throw 1 of 2
20 - 32
0:02
Golden State offensive rebound
20 - 32
0:02
Anthony Tolliver enters the game for Chris Hunter
20 - 32
0:02
Monta Ellis makes free throw 2 of 2
21 - 32
0:00
Josh Howard misses 56-foot three point jumper
21 - 32
0:00
Dallas offensive rebound
21 - 32
0:00
End of the 1st Quarter
21 - 32

time
TEAM
PLAY
SCORE
12:00
Start of the 2nd Quarter
21 - 32
11:41
Coby Karl misses 7-foot jumper
21 - 32
11:40
Rodrigue Beaubois defensive rebound
21 - 32
11:32
Dirk Nowitzki makes 18-foot jumper (Drew Gooden assists)
21 - 34
11:17
Monta Ellis misses 20-foot two point shot
21 - 34
11:15
Anthony Tolliver offensive rebound
21 - 34
11:08
Coby Karl misses 25-foot three point jumper
21 - 34
11:07
Dirk Nowitzki defensive rebound
21 - 34
11:03
Drew Gooden makes dunk (Jose Juan Barea assists)
21 - 36
10:56
Golden State full timeout
21 - 36
10:56
Devean George enters the game for Coby Karl
21 - 36
10:38
Ronny Turiaf makes 8-foot two point shot (Anthony Tolliver assists)
23 - 36
10:25
Rodrigue Beaubois makes 24-foot three point jumper (Jose Juan Barea assists)
23 - 39
10:08
Devean George misses driving layup
23 - 39
10:07
Golden State defensive rebound
23 - 39
9:47
Dirk Nowitzki misses 17-foot jumper
23 - 39
9:45
Jose Juan Barea offensive rebound
23 - 39
9:32
Monta Ellis personal foul (Jose Juan Barea draws the foul)
23 - 39
9:26
Josh Howard makes 7-foot jumper (Dirk Nowitzki assists)
23 - 41
9:11
Anthony Tolliver misses 18-foot jumper
23 - 41
9:11
Devean George offensive rebound
23 - 41
9:06
Devean George makes 22-foot jumper
25 - 41
8:49
Rodrigue Beaubois misses 7-foot two point shot
25 - 41
8:48
Drew Gooden offensive rebound
25 - 41
8:33
Drew Gooden 3 second
25 - 41
8:22
Rodrigue Beaubois shooting foul (Monta Ellis draws the foul)
25 - 41
8:22
Monta Ellis misses free throw 1 of 2
25 - 41
8:22
Golden State offensive rebound
25 - 41
8:22
Jason Terry enters the game for Rodrigue Beaubois
25 - 41
8:22
Monta Ellis misses free throw 2 of 2
25 - 41
8:22
Dirk Nowitzki defensive rebound
25 - 41
8:15
Jose Juan Barea turnover
25 - 41
8:00
Monta Ellis makes driving layup
27 - 41
7:43
Devean George shooting foul (Drew Gooden draws the foul)
27 - 41
7:43
Drew Gooden makes free throw 1 of 2
27 - 42
7:43
Stephen Curry enters the game for C.J. Watson
27 - 42
7:43
Drew Gooden makes free throw 2 of 2
27 - 43
7:24
Monta Ellis makes 11-foot two point shot
29 - 43
7:24
Josh Howard shooting foul (Monta Ellis draws the foul)
29 - 43
7:24
James Singleton enters the game for Drew Gooden
29 - 43
7:24
Monta Ellis makes free throw 1 of 1
30 - 43
7:11
Jose Juan Barea makes 16-foot two point shot
30 - 45
6:56
Devean George makes 23-foot three point jumper (Monta Ellis assists)
33 - 45
6:35
Devean George personal foul (Jose Juan Barea draws the foul)
33 - 45
6:24
Dirk Nowitzki makes 18-foot jumper (Josh Howard assists)
33 - 47
6:09
Josh Howard shooting foul (Ronny Turiaf draws the foul)
33 - 47
6:09
Ronny Turiaf misses free throw 1 of 2
33 - 47
6:09
Golden State offensive rebound
33 - 47
6:09
Coby Karl enters the game for Anthony Tolliver
33 - 47
6:09
Ronny Turiaf misses free throw 2 of 2
33 - 47
6:09
Dirk Nowitzki defensive rebound
33 - 47
5:58
Ronny Turiaf blocks Josh Howard's driving layup
33 - 47
5:56
Coby Karl defensive rebound
33 - 47
5:50
Devean George misses 25-foot three point jumper
33 - 47
5:50
Coby Karl offensive rebound
33 - 47
5:50
Devean George traveling
33 - 47
5:50
Official timeout
33 - 47
5:50
Shawn Marion enters the game for Dirk Nowitzki
33 - 47
5:50
Jason Kidd enters the game for Jose Juan Barea
33 - 47
5:31
Josh Howard misses 25-foot three point jumper
33 - 47
5:31
Shawn Marion offensive rebound
33 - 47
5:24
Jason Kidd misses 24-foot three point jumper
33 - 47
5:24
Coby Karl defensive rebound
33 - 47
5:15
Monta Ellis makes 22-foot two point shot
35 - 47
5:01
Jason Terry makes 25-foot three point jumper (Jason Kidd assists)
35 - 50
4:50
James Singleton shooting foul (Monta Ellis draws the foul)
35 - 50
4:50
Monta Ellis makes free throw 1 of 2
36 - 50
4:50
Anthony Tolliver enters the game for Ronny Turiaf
36 - 50
4:50
Monta Ellis makes free throw 2 of 2
37 - 50
4:35
Josh Howard makes 5-foot two point shot (Jason Terry assists)
37 - 52
4:18
Anthony Tolliver misses two point shot
37 - 52
4:16
Shawn Marion defensive rebound
37 - 52
4:11
Shawn Marion bad pass
37 - 52
4:11
Corey Maggette enters the game for Devean George
37 - 52
3:51
Anthony Tolliver bad pass
37 - 52
3:51
C.J. Watson enters the game for Monta Ellis
37 - 52
3:41
Josh Howard makes two point shot
37 - 54
3:28
C.J. Watson misses three point jumper
37 - 54
3:27
Corey Maggette offensive rebound
37 - 54
3:24
Corey Maggette makes two point shot
39 - 54
3:02
Shawn Marion makes two point shot (Jason Kidd assists)
39 - 56
2:47
Corey Maggette misses layup
39 - 56
2:47
Corey Maggette offensive rebound
39 - 56
2:46
Corey Maggette makes two point shot
41 - 56
2:29
Coby Karl personal foul (Josh Howard draws the foul)
41 - 56
2:29
Dallas full timeout
41 - 56
2:23
Jason Kidd bad pass (Anthony Tolliver steals)
41 - 56
2:14
Stephen Curry makes 18-foot two point shot
43 - 56
1:59
Shawn Marion lost ball (Corey Maggette steals)
43 - 56
1:53
Corey Maggette misses 18-foot jumper
43 - 56
1:52
Jason Kidd defensive rebound
43 - 56
1:45
Shawn Marion makes layup (Jason Kidd assists)
43 - 58
1:23
Shawn Marion blocks Corey Maggette's driving layup
43 - 58
1:23
Golden State defensive rebound
43 - 58
1:05
Shawn Marion makes 6-foot jumper (Jason Kidd assists)
43 - 60
0:53
Josh Howard shooting foul (Corey Maggette draws the foul)
43 - 60
0:53
Corey Maggette makes free throw 1 of 2
44 - 60
0:53
Quinton Ross enters the game for Josh Howard
44 - 60
0:53
Corey Maggette misses free throw 2 of 2
44 - 60
0:52
Shawn Marion defensive rebound
44 - 60
0:39
Jason Terry makes driving layup (Jason Kidd assists)
44 - 62
0:18
C.J. Watson makes 7-foot two point shot
46 - 62
0:05
Jason Kidd bad pass (C.J. Watson steals)
46 - 62
0:05
Jason Terry personal foul (C.J. Watson draws the foul)
46 - 62
0:05
C.J. Watson makes free throw 1 of 2
47 - 62
0:05
Jose Juan Barea enters the game for Quinton Ross
47 - 62
0:05
C.J. Watson makes free throw 2 of 2
48 - 62
0:00
Jason Terry misses jumper
48 - 62
0:00
Anthony Tolliver defensive rebound
48 - 62
0:00
End of the 2nd Quarter
48 - 62

time
TEAM
PLAY
SCORE
12:00
Start of the 3rd Quarter
48 - 62
11:51
Stephen Curry misses 25-foot three point jumper
48 - 62
11:49
Jason Terry defensive rebound
48 - 62
11:42
Eduardo Najera misses layup
48 - 62
11:41
Andris Biedrins defensive rebound
48 - 62
11:29
Monta Ellis bad pass (Jason Kidd steals)
48 - 62
11:23
Shawn Marion turnover
48 - 62
11:12
Monta Ellis bad pass (Eduardo Najera steals)
48 - 62
11:07
Jason Terry makes 19-foot two point shot (Jason Kidd assists)
48 - 64
10:45
Monta Ellis makes 19-foot jumper (Andris Biedrins assists)
50 - 64
10:26
Shawn Marion misses 10-foot two point shot
50 - 64
10:25
Andris Biedrins defensive rebound
50 - 64
10:18
Monta Ellis bad pass (Jason Kidd steals)
50 - 64
10:14
Jason Terry misses two point shot
50 - 64
10:12
Devean George defensive rebound
50 - 64
10:07
Corey Maggette makes 21-foot jumper
52 - 64
9:45
Andris Biedrins shooting foul (Jason Terry draws the foul)
52 - 64
9:45
Jason Terry makes free throw 1 of 2
52 - 65
9:45
Jason Terry makes free throw 2 of 2
52 - 66
9:32
Monta Ellis makes 22-foot jumper (Andris Biedrins assists)
54 - 66
9:22
Devean George personal foul (Dirk Nowitzki draws the foul)
54 - 66
9:12
Jason Terry makes 9-foot two point shot
54 - 68
9:00
Andris Biedrins makes two point shot (Monta Ellis assists)
56 - 68
8:40
Devean George blocks Jason Terry's 8-foot jumper
56 - 68
8:38
Andris Biedrins defensive rebound
56 - 68
8:38
Jason Terry personal foul (Andris Biedrins draws the foul)
56 - 68
8:19
Monta Ellis turnover
56 - 68
7:58
Jason Kidd bad pass
56 - 68
7:50
Monta Ellis offensive foul (Eduardo Najera draws the foul)
56 - 68
7:50
Monta Ellis turnover
56 - 68
7:35
Jason Kidd makes 23-foot three point jumper (Jason Terry assists)
56 - 71
7:16
Shawn Marion blocks Corey Maggette's driving layup
56 - 71
7:15
Monta Ellis offensive rebound
56 - 71
7:09
Monta Ellis makes 26-foot three point jumper
59 - 71
6:50
Jason Terry makes driving layup
59 - 73
6:48
Golden State full timeout
59 - 73
6:48
C.J. Watson enters the game for Stephen Curry
59 - 73
6:33
Monta Ellis misses 21-foot jumper
59 - 73
6:33
Andris Biedrins offensive rebound
59 - 73
6:22
Devean George misses 24-foot three point jumper
59 - 73
6:20
Shawn Marion defensive rebound
59 - 73
6:11
Andris Biedrins blocks Eduardo Najera's driving layup
59 - 73
6:11
Devean George defensive rebound
59 - 73
6:05
Corey Maggette traveling
59 - 73
5:50
Jason Terry misses 14-foot jumper
59 - 73
5:48
Andris Biedrins defensive rebound
59 - 73
5:39
Corey Maggette makes two point shot
61 - 73
5:20
Jason Kidd misses 25-foot three point jumper
61 - 73
5:20
Devean George defensive rebound
61 - 73
5:11
Monta Ellis offensive foul (Eduardo Najera draws the foul)
61 - 73
5:11
Monta Ellis turnover
61 - 73
4:52
Jason Terry misses 23-foot three point jumper
61 - 73
4:52
Dirk Nowitzki offensive rebound
61 - 73
4:52
Andris Biedrins shooting foul (Dirk Nowitzki draws the foul)
61 - 73
4:52
Dirk Nowitzki makes free throw 1 of 2
61 - 74
4:52
Dirk Nowitzki makes free throw 2 of 2
61 - 75
4:35
Monta Ellis makes 22-foot jumper
63 - 75
4:20
Dirk Nowitzki bad pass
63 - 75
4:05
Monta Ellis makes 22-foot two point shot
65 - 75
4:03
Dallas full timeout
65 - 75
4:03
Josh Howard enters the game for Shawn Marion
65 - 75
4:03
Drew Gooden enters the game for Eduardo Najera
65 - 75
3:43
Jason Terry makes 17-foot jumper (Jason Kidd assists)
65 - 77
3:23
C.J. Watson makes 11-foot two point shot
67 - 77
3:10
Monta Ellis personal foul (Dirk Nowitzki draws the foul)
67 - 77
3:00
Drew Gooden misses 19-foot jumper
67 - 77
2:59
Corey Maggette defensive rebound
67 - 77
2:53
Corey Maggette makes driving layup
69 - 77
2:53
Drew Gooden illegal defense
69 - 77
2:53
Dallas 20 Sec. timeout
69 - 77
2:53
Shawn Marion enters the game for Dirk Nowitzki
69 - 77
2:38
Josh Howard makes 20-foot jumper (Jason Kidd assists)
69 - 79
2:12
Shawn Marion shooting foul (Monta Ellis draws the foul)
69 - 79
2:12
Monta Ellis misses free throw 1 of 2
69 - 79
2:12
Golden State offensive rebound
69 - 79
2:12
Rodrigue Beaubois enters the game for Jason Terry
69 - 79
2:12
Ronny Turiaf enters the game for Andris Biedrins
69 - 79
2:12
Monta Ellis makes free throw 2 of 2
70 - 79
2:00
Drew Gooden makes 10-foot two point shot (Jason Kidd assists)
70 - 81
1:51
Corey Maggette makes 18-foot jumper
72 - 81
1:23
shot clock violation
72 - 81
1:23
Coby Karl enters the game for Devean George
72 - 81
1:12
Monta Ellis offensive foul (Drew Gooden draws the foul)
72 - 81
1:12
Monta Ellis turnover
72 - 81
1:02
Josh Howard misses three point jumper
72 - 81
1:01
Coby Karl defensive rebound
72 - 81
0:50
Corey Maggette makes 25-foot three point jumper (C.J. Watson assists)
75 - 81
0:35
Ronny Turiaf blocks Drew Gooden's 8-foot jumper
75 - 81
0:33
Dallas offensive rebound
75 - 81
0:33
Stephen Curry enters the game for Monta Ellis
75 - 81
0:29
Rodrigue Beaubois misses 5-foot two point shot
75 - 81
0:28
Corey Maggette defensive rebound
75 - 81
0:04
Stephen Curry misses 7-foot jumper
75 - 81
0:04
Golden State offensive rebound
75 - 81
0:04
shot clock violation
75 - 81
0:04
Jason Terry enters the game for Shawn Marion
75 - 81
0:00
Drew Gooden misses driving layup
75 - 81
0:00
Coby Karl defensive rebound
75 - 81
0:00
End of the 3rd Quarter
75 - 81

time
TEAM
PLAY
SCORE
12:00
Start of the 4th Quarter
75 - 81
11:44
Jason Terry lost ball (C.J. Watson steals)
75 - 81
11:40
C.J. Watson makes two point shot (Stephen Curry assists)
77 - 81
11:14
Jason Terry misses 24-foot three point jumper
77 - 81
11:12
Ronny Turiaf defensive rebound
77 - 81
10:52
Stephen Curry bad pass (Shawn Marion steals)
77 - 81
10:47
Josh Howard makes two point shot (Jason Terry assists)
77 - 83
10:26
Corey Maggette misses 14-foot two point shot
77 - 83
10:26
Shawn Marion defensive rebound
77 - 83
10:11
Drew Gooden misses two point shot
77 - 83
10:11
Coby Karl defensive rebound
77 - 83
10:04
Coby Karl misses driving layup
77 - 83
10:04
Corey Maggette offensive rebound
77 - 83
9:59
C.J. Watson makes 10-foot two point shot
79 - 83
9:41
Rodrigue Beaubois makes driving layup
79 - 85
9:41
Coby Karl shooting foul (Rodrigue Beaubois draws the foul)
79 - 85
9:41
Rodrigue Beaubois makes free throw 1 of 1
79 - 86
9:26
Shawn Marion personal foul (Corey Maggette draws the foul)
79 - 86
9:17
Ronny Turiaf offensive foul (Drew Gooden draws the foul)
79 - 86
9:17
Ronny Turiaf turnover
79 - 86
9:17
Monta Ellis enters the game for Stephen Curry
79 - 86
9:02
Shawn Marion makes 7-foot two point shot
79 - 88
8:40
Monta Ellis makes 25-foot three point jumper (Coby Karl assists)
82 - 88
8:18
Shawn Marion makes 6-foot jumper (Jason Terry assists)
82 - 90
8:08
C.J. Watson makes 21-foot two point shot
84 - 90
8:00
Dallas full timeout
84 - 90
8:00
Dirk Nowitzki enters the game for Shawn Marion
84 - 90
8:00
Devean George enters the game for Coby Karl
84 - 90
7:48
Ronny Turiaf shooting foul (Dirk Nowitzki draws the foul)
84 - 90
7:48
Dirk Nowitzki misses free throw 1 of 2
84 - 90
7:48
Dallas offensive rebound
84 - 90
7:48
Dirk Nowitzki makes free throw 2 of 2
84 - 91
7:35
Monta Ellis makes 17-foot two point shot
86 - 91
7:20
Drew Gooden makes slam dunk (Rodrigue Beaubois assists)
86 - 93
7:00
Corey Maggette makes 13-foot jumper
88 - 93
6:41
Josh Howard makes jumper (Rodrigue Beaubois assists)
88 - 95
6:22
Corey Maggette misses 17-foot jumper
88 - 95
6:22
Dirk Nowitzki defensive rebound
88 - 95
6:16
Rodrigue Beaubois misses driving layup
88 - 95
6:15
Ronny Turiaf defensive rebound
88 - 95
6:09
C.J. Watson misses 26-foot three point jumper
88 - 95
6:07
Corey Maggette offensive rebound
88 - 95
6:03
Devean George misses 20-foot jumper
88 - 95
6:03
Josh Howard defensive rebound
88 - 95
5:47
Rodrigue Beaubois bad pass (Devean George steals)
88 - 95
5:39
Josh Howard shooting foul (C.J. Watson draws the foul)
88 - 95
5:39
Official timeout
88 - 95
5:39
Jason Kidd enters the game for Rodrigue Beaubois
88 - 95
5:39
C.J. Watson makes free throw 1 of 2
89 - 95
5:39
C.J. Watson makes free throw 2 of 2
90 - 95
5:24
Josh Howard bad pass
90 - 95
5:11
Monta Ellis makes layup (Ronny Turiaf assists)
92 - 95
4:54
Jason Terry misses 25-foot three point jumper
92 - 95
4:52
Dirk Nowitzki offensive rebound
92 - 95
4:48
Ronny Turiaf shooting foul (Dirk Nowitzki draws the foul)
92 - 95
4:48
Dirk Nowitzki makes free throw 1 of 2
92 - 96
4:48
Dirk Nowitzki makes free throw 2 of 2
92 - 97
4:31
Golden State full timeout
92 - 97
4:26
C.J. Watson misses 12-foot two point shot
92 - 97
4:24
Drew Gooden defensive rebound
92 - 97
4:24
Corey Maggette loose ball foul (Drew Gooden draws the foul)
92 - 97
4:03
Jason Kidd misses 25-foot three point jumper
92 - 97
4:03
Josh Howard offensive rebound
92 - 97
3:53
Dirk Nowitzki makes 16-foot two point shot (Jason Kidd assists)
92 - 99
3:36
C.J. Watson misses 11-foot two point shot
92 - 99
3:35
Corey Maggette offensive rebound
92 - 99
3:32
Corey Maggette bad pass (Jason Kidd steals)
92 - 99
3:19
Dirk Nowitzki makes 17-foot jumper
92 - 101
3:17
Golden State full timeout
92 - 101
3:08
Monta Ellis makes 24-foot three pointer
95 - 101
2:49
Jason Terry bad pass (Devean George steals)
95 - 101
2:34
C.J. Watson bad pass (Jason Kidd steals)
95 - 101
2:29
Jason Kidd bad pass (Devean George steals)
95 - 101
2:25
Jason Kidd shooting foul (Monta Ellis draws the foul)
95 - 101
2:25
Monta Ellis makes free throw 1 of 2
96 - 101
2:25
Monta Ellis makes free throw 2 of 2
97 - 101
2:08
Jason Terry makes jumper (Dirk Nowitzki assists)
97 - 103
1:42
Monta Ellis misses 23-foot three point jumper
97 - 103
1:40
Drew Gooden defensive rebound
97 - 103
1:24
Jason Kidd makes 24-foot three point jumper (Jason Terry assists)
97 - 106
1:24
Golden State full timeout
97 - 106
1:09
C.J. Watson bad pass (Jason Terry steals)
97 - 106
0:52
Dirk Nowitzki makes two point shot
97 - 108
0:38
Ronny Turiaf misses jumper
97 - 108
0:37
Monta Ellis makes tip shot
99 - 108
0:37
Monta Ellis offensive rebound
99 - 108
0:13
Jason Kidd misses 33-foot three point jumper
99 - 108
0:13
Dallas offensive rebound
99 - 108
0:13
shot clock violation
99 - 108
0:13
Stephen Curry enters the game for C.J. Watson
99 - 108
0:13
Coby Karl enters the game for Ronny Turiaf
99 - 108
0:13
Rodrigue Beaubois enters the game for Jason Kidd
99 - 108
0:13
James Singleton enters the game for Dirk Nowitzki
99 - 108
0:09
Rodrigue Beaubois shooting foul (Stephen Curry draws the foul)
99 - 108
0:09
Stephen Curry makes free throw 1 of 2
100 - 108
0:09
Jose Juan Barea enters the game for Jason Terry
100 - 108
0:09
Stephen Curry makes free throw 2 of 2
101 - 108
0:08
Stephen Curry personal foul (Rodrigue Beaubois draws the foul)
101 - 108
0:08
Rodrigue Beaubois makes free throw 1 of 2
101 - 109
0:08
C.J. Watson enters the game for Corey Maggette
101 - 109
0:08
Rodrigue Beaubois makes free throw 2 of 2
101 - 110
0:02
Monta Ellis misses 22-foot jumper
101 - 110
0:00
James Singleton defensive rebound
101 - 110
0:00
End of the 4th Quarter
101 - 110
0:00
End Game
101 - 110
NBA Insider is projecting wins and player performance for every team. Check out what we expect for your team.

How will Kyle Lowry, DeMar DeRozan and the Toronto Raptors do in 2016-17? Check out our player scouting reports and projections.

Minnesota Timberwolves center Nikola Pekovic will not play in 2016-17 as he continues to deal with ankle and Achilles injuries.
Regular Season Series
DAL wins series 3-1
2015-2016 Pacific Standings
2015-2016 Southwest Standings