--- October 2013 ---

--- September 2013 ---

--- August 2013 ---

--- July 2013 ---

--- June 2013 ---

--- May 2013 ---

--- April 2013 ---

--- March 2013 ---

--- February 2013 ---

--- January 2013 ---
ACE Group Classic
The TwinEagles Club - Talon Course

2013 Champion

Bernhard Langer
Sponsored Headlines
Now
ESPN Golf
@ESPNGolf

Eight automatic qualifiers must take ownership of U.S. team - Davis Love III es.pn/2bweLrg
ESPN UK
@ESPNUK

The eight automatic U.S. #RyderCup qualifiers set to have an input into Davis Love III's wildcard picks. es.pn/2bRpUTk
Michael Collins
ESPN Senior Writer

It takes a strong "caddie" to quietly take this kind of abuse when the "player" dishes it out. Poor PGA Tour pro Paul Casey taking abuse from his caddie John McClaren!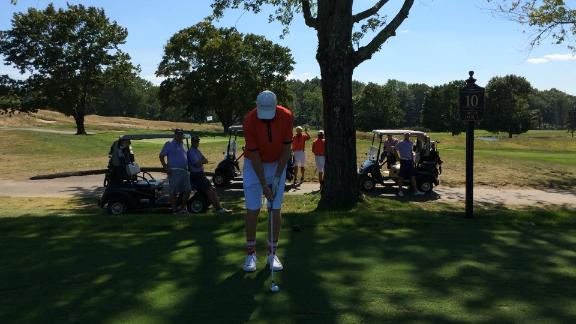 ESPNTennis
@ESPNTennis
What a rollercoaster on Armstrong. After dropping the opener 6-2 to Mertens, No.3 seed Muguruza completely dominates the 2nd 6-0. #USOpen
Michael Collins
ESPN Senior Writer

Jay Haas Jr., "My dad had these belt buckles made for me and Bill (PGA Tour Pro) for the President's Cup. I never got to wear mine... Until today!" Brother Bill fired him before the Presidents Cup!! Yes, they can laugh now about it.
ESPNTennis
@ESPNTennis
Upset Alert: Reigning French Open champion and No.3 seed Muguruza drops the opener 6-2 to 20yo Mertens. Watch - es.pn/2aN0brV
Michael Collins
ESPN Senior Writer

Charlie Hoffman supporting his caddie Brett Waldman who makes the turn 4up in his match. How about the flip flops and of course the CaddyShack t-shirt!!!
ESPN Golf
@ESPNGolf

Golfer Tiffany Joh misses cut, but ends up having most Instagram-worthy weekend ever es.pn/2bxaeS6
Michael Collins
ESPN Senior Writer

Gold medal winning caddie Mark Fulcher(left) playing with silver medal winning caddie Gareth Lord(right) ready to play in the final matches of the afternoon for the International Team.
ESPN UK
@ESPNUK

What will be Tiger Woods' impact on the Ryder Cup next month? espn.co.uk/video/clip?id=…
Michael Collins
ESPN Senior Writer

In the morning scotch foursomes the U.S. Caddies defeated the International Caddies 9 1/2 to 1 1/2. The afternoon singles matches are now underway!
Michael Collins
ESPN Senior Writer

Role Reversal- What happens when the PGA Tour pro has to loop for his caddie?! The 1st Annual World Caddie Matches by Beckmen Law is happening right now at the Mohegan Sun Golf Club. Here's John McClaren with his caddie PGA Tour pro Paul Casey.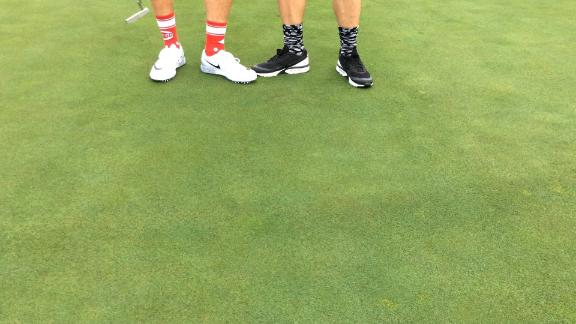 Michelle Wie
@themichellewie
Last workout in Calgary before heading out to the next stop… instagram.com/p/BJstzhEAtBR/
US Open Tennis
@usopen
.@TaylorTownsend with a blistering forehand winner! She takes the opening set 6-4. #USOpen @MBUSA snpy.tv/2bMfKkY
Stacy Lewis
@Stacy_Lewis

Great to be back in Ontario for the #ManulifeClassic. Awesome sponsor, awesome fans!
Darren Rovell
ESPN Senior Writer

20 Years Ago Today: Nike announces Tiger to the world with a two-page Wall Street Journal ad
ESPN Golf
@ESPNGolf

Ex-Michigan State coach Ryan Brehm wins Web.com finale, earns PGA Tour card es.pn/2btoP4w
Jason Sobel
@JasonSobelESPN
Just when no other U.S. player stepped up for a last-minute Ryder Cup spot, along comes Patrick Reed. Column: espn.com/golf/story/_/i…
Brandon Prust
@BrandonPrust8
But who would win in a hockey tilt on the golf course?! @GrahamDeLaet @HearnDavid pic.twitter.com/7AYImzhvxh
ESPN Golf
@ESPNGolf

Bernhard Langer takes Boeing Classic for 29th senior title es.pn/2bK9YTM
ESPN Golf
@ESPNGolf

Patrick Reed raises game, wins Barclays, with Ryder Cup spot on the line es.pn/2bt8OLM