Sports betting is increasingly getting the attention of state lawmakers.
The uptick in legislative activity for traditional sports betting -- think point spreads, totals, money lines and prop bets -- follows dozens of states that have considered laws specifically permitting daily fantasy sports.
New state laws about sports betting had been largely dormant since the federal Professional and Amateur Sports Protection Act of 1992 (PASPA) was enacted. For two decades, PASPA dissuaded states from legalizing sports betting. But that changed in 2012 when New Jersey Gov. Chris Christie signed legislation to permit Nevada-style sports gambling. The NCAA, NBA, NHL, MLB and NFL sued to stop New Jersey's plan. That lawsuit was accepted for review by the Supreme Court. On May 14, 2018, it ruled that PASPA was unconstitutional.
New Jersey's Supreme Court victory has greased the wheels for even more states to enter the fray. Additional states have recently moved to introduce legislation that would legalize sports betting, which can now be activated since PASPA was overturned by the Supreme Court.
At the same time various state lawmakers are considering sports betting legislation, Congress is too. Rep. Frank Pallone, D-N.J., formally introduced a legislation in December 2017 that would replace PASPA. Both the Senate and the House of Representatives are considering holding hearings.
The dual track of proposals -- state and federal -- have increased in frequency since the start of 2017.
To measure the change in the landscape, ESPN Chalk ranked all 50 states and the District of Columbia in terms of how likely it is for each jurisdiction offer full scale legal sports betting. A brief synopsis for the active states is included, with updates to follow.
Last updated on June 22, 2018.
---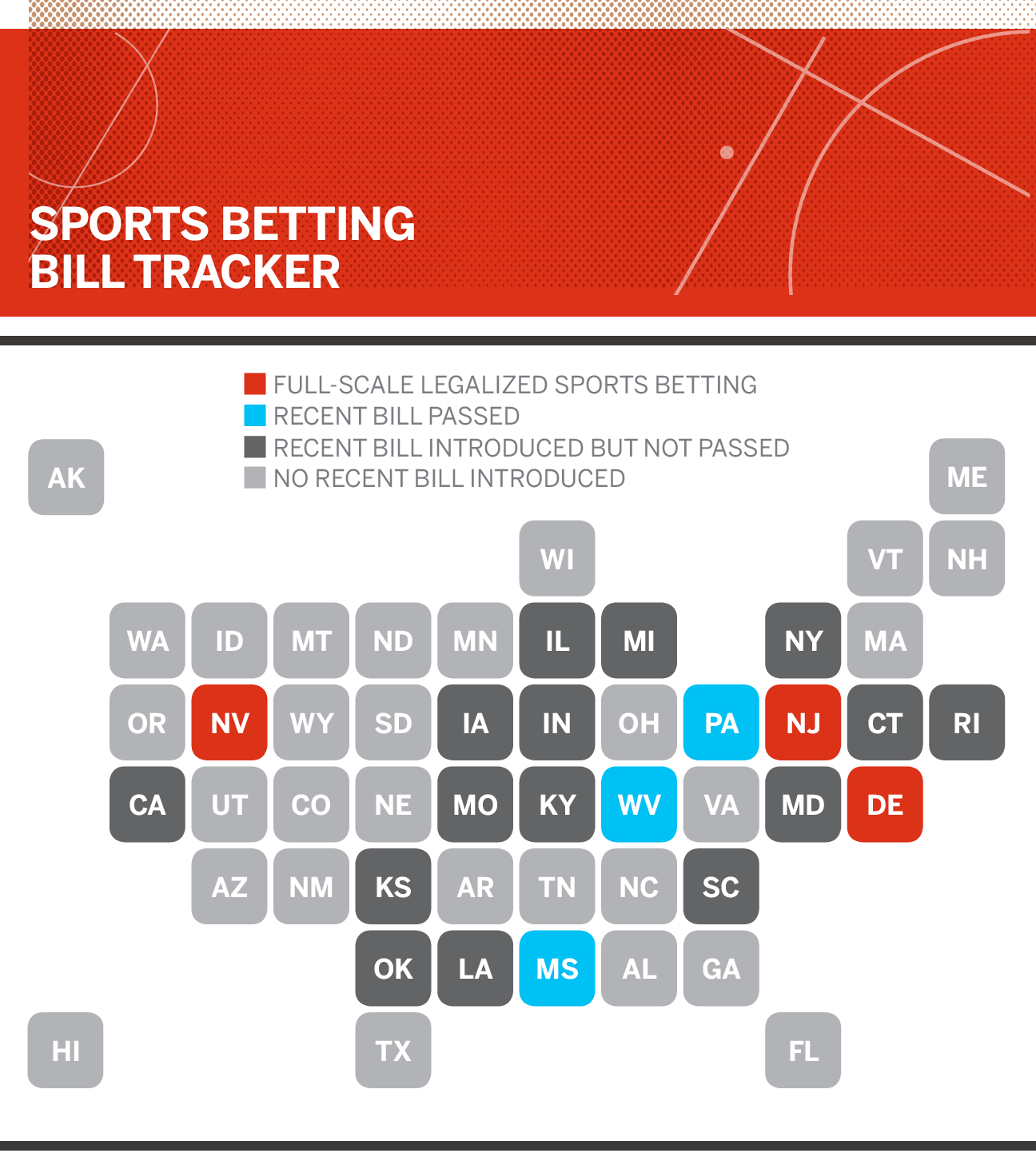 Already there
1. Nevada
No longer the only state to permit a wide variety of legal sports betting, Nevada is a mature market that has existed for decades. Many states might look to Nevada for the best practices in the regulation of sports betting. Nevada could even be designated as a national hub of sorts, via agreements with other states on topics such as oversight, liquidity, line monitoring and risk management.
2. Delaware
On June 5, 2018, Delaware moved to offer single-game betting on a number of different sports at three casinos in the state. Expanded sports wagering options could take place at additional locations or online in the coming months. Delaware's authorization of what Gov. John Carney described as "a full-scale sports gaming operation" happened less than a month after the Supreme Court ruled that the federal law restricting single-game betting to Nevada was unconstitutional.
3. New Jersey
On June 11, 2018, Gov. Phil Murphy signed the sports betting bill that had passed the previous week. A William Hill sportsbook at Monmouth Park took the first bets on Thursday, June 14 at 10:30 a.m. ET. Gov. Murphy was the first customer in line. The Borgata in Atlantic City booked sports bets 30 minutes later. Other sportsbooks in New Jersey will soon offer betting as well.
On-deck circle
4-8. Mississippi, New York, Pennsylvania, Rhode Island and West Virginia
All of these states have already enacted state laws to allow sports betting. As soon as state officials provide the green light -- usually in the form of published regulations for operators to follow -- sports wagering will commence as soon as this summer. For example, New York has a law on the books that would allow sports bets to be offered on-site at four brick-and-mortar locations in the state as soon as regulators issue their rules.
Moving toward legalization
9-23. California, Connecticut, Illinois, Indiana, Iowa, Kansas, Kentucky, Louisiana, Maryland, Massachusetts, Michigan, Minnesota, Missouri, Oklahoma, and South Carolina
Each state has introduced kick-starter legislation (or publicly announced plans to do so), with hearings and votes on the bills moving forward at different speeds. One state -- California -- has a pending voter referendum that could legalize sports betting. Existing laws that could be expanded
24-25. Oregon and Montana
Both states have laws on the books that permit some form of sports betting and probably could be widened in scope, if lawmakers are so inclined. The Oregon Lottery offered its pick 'em-style game for years before mothballing it about a decade ago. The Montana Lottery currently offers a fantasy-type sports pool for football and auto racing.
No legalization activity ... yet
26-50. Alaska, Alabama, Arkansas, Arizona, Colorado, Florida, Georgia, Hawaii, Idaho, Maine, Nebraska, New Hampshire, New Mexico, North Carolina, North Dakota, Ohio, South Dakota, Tennessee, Texas, Vermont, Virginia, Washington D.C., Washington State, Wisconsin and Wyoming
All states in this category have laws that prohibit full-blown sports betting. Such laws would need to be repealed or amended before full-scale sports wagering would be permitted. These states do not have any publicly announced bills devoted to sports betting legalization.
Unlikely
51. Utah
Utah's anti-gambling stance is written into the state's constitution. Any change to existing state policy toward gambling would be a massive departure from decades of opposition to any form of gambling, including lottery tickets, table games and sports betting.