Boston Celtics coach Brad Stevens arrived at the team's Shamrock Gala on Thursday night with his wife, Tracy, by his side and, spotting reporters, he shuffled over for media obligations. When he was told that maybe we'd rather talk to Tracy, he smiled and quipped, "You should, she knows the starting five."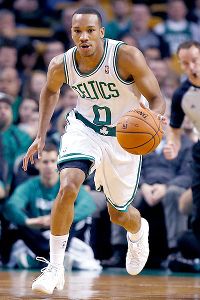 AP Photo/Michael Dwyer
Avery Bradley is just about the only certainty in the Celtics' starting five.Outside of the Stevens family, the lineup is anyone's guess.
The Celtics employed five different five-man combinations over an eight-game exhibition slate. Avery Bradley was the only player to start all eight games, while Stevens mixed and matched around him.
The starting lineup has been a daily topic of conversation, something that Stevens seems to find amusing. Like most coaches, he has often stressed that it's far more important which five players are on the floor to finish the games, but he has remained coy about which way he's leaning in advance of Wednesday's regular-season opener in Toronto.
"I think you're always looking for the best [rotation] for your team," said Stevens. "Sometimes you know that really early, sometimes that develops over time. Sometimes guys show themselves true in roles you never thought that they would. Sometimes you find that by accident. Sometimes you find that on purpose. I've had it both ways.
"The two teams that went to the national title game for us at Butler, the first one [had] basically the same starting lineup for two years. You knew every day what their roles were; you knew every day what they were going to do and what they were, and that was part of it. And then the second one, we might have mixed it up seven to 10 times throughout the course of the season. It took us awhile to find it and so that's just part of it. I think it can go both ways."